Range Rover Evoque: Disabling dsc

Safety may be reduced by inappropriately disabling DSC. In the majority of driving situations, and particularly on-road, it is recommended that you do not disable DSC.
In some driving conditions it may be appropriate to disable DSC to improve traction.
These conditions include: - Rocking the vehicle out of a hollow or deep rut.
- Pulling away in deep snow, or a loose surface.
- Driving through deep sand or mud.
- Driving along tracks with deep longitudinal ruts.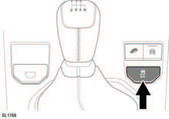 To disable DSC, press and briefly hold the DSC OFF switch. The DSC OFF warning lamp will illuminate continuously. The amber DSC OFF warning lamp in the instrument panel will also illuminate. Deactivating DSC also reduces the level of Electronic Traction Control intervention and may lead to an increase in wheel spin.
READ NEXT:
DSC is re-enabled by one of the following: - Press and briefly hold the DSC OFF switch. - Stop and restart the engine. - Select a new Terrain Response special program.
ETC operates in conjunction with Dynamic Stability Control (DSC) and is designed to assist when one or more wheels have lost traction. If a wheel loses traction, ETC will operate the brake on tha
The adaptive dynamics continuously monitor road and driver inputs. It detects rough road and off road conditions, optimises the vehicle suspension settings to suit each surface type and adjusts co
SEE MORE:
Opening and closing the bonnet Opening 1. Pull the bonnet release lever, located in the left-hand front footwell. 2. Lift the bonnet safety catch lever, located below the centre point of the bonnet, then raise the bonnet. Closing Do not drive with the bonnet retained by the safety catc
NOTICE ■When the rear window is dry Do not use the wiper, as it may damage the rear window. Operating the wiper lever Operating the switch operates the rear wiper as follows. (U.S.A.) or (Canada) Off (U.S.A.) or (Canada) Intermittent window wiper operation (U.S.A.) or (Canada) Nor
© 2011-2023 Copyright www.rrevoque.org