Range Rover Evoque: Folding and raising the rear seats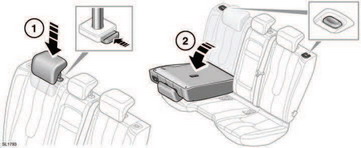 Folding and raising the rear seats
The split fold rear seat of 5 door models can be folded completely, or partially at 60/40 split, to accommodate loads and still retain seating for passengers.
To fold part or all of the seat: 1. Fully lower the head restraints.
2. Press either seat backrest release button, then fold the appropriate backrest fully forward.
Raising a folded seat is a reversal of the folding process.
When the seat back is fully raised and locked into position, the release/locking button will pop up.
With the Coupe 3 door models, if a fold is required, the smaller part must be folded first.
The larger part can then be folded.
Raising the Coupe folded seats is a reversal of the folding process. Ensure that the release/locking button relocates into the correct position.

Ensure that when the backrest is raised the locking mechanism is fully engaged. If the backrests are not fully locked in place, red markers will be visible around the backrest buttons.
READ NEXT:
Adjust the head restraint so that the top of the head restraint is above the centre line of the head. An incorrectly adjusted head restraint increases the risk of death or serious injury in the
Never adjust the steering column while the vehicle is in motion. 1. Move the lever fully down to unlock the column. Move the lever fully up to re-lock the column. 2. Move the steering column u
SEE MORE:
Image Processing Module B (IPMB) 5 Camera System CAUTION: Diagnosis by substitution from a donor vehicle is NOT acceptable. Substitution of control modules does not guarantee confirmation of a fault, and may also cause additional faults in the vehicle being tested and/or the donor vehicle.
High voltage is required to ignite the gas and metal vapour which are used to power Xenon lamps. Contact with this voltage can cause serious injury. Replacement or maintenance of Xenon lamps should only be carried out by suitably qualified personnel. Xenon lamp units operate at a very hig
© 2011-2021 Copyright www.rrevoque.org