Range Rover Evoque: Label locations
Warning labels attached to your vehicle bearing this symbol mean: Do not touch or adjust components until you have read the relevant instructions in the handbook.

Labels showing this symbol indicate that the ignition system utilises very high voltages. Do not touch any ignition components while the starter switch is turned on.
Additional information labels may also be found at the following locations: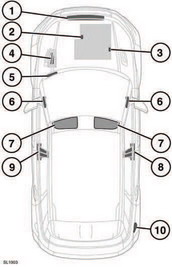 1. Bonnet locking platform - Air conditioning label.
2. Engine identification information. Stamped into engine mounting flange.
3. Engine information label. Top right side of engine cover.
4. Top of battery - Battery warning symbols.
5. The VIN (Vehicle Identification Number) is stamped on a plate which is visible through the lowest part of the left side of the windscreen.
Note: If you need to communicate with a Dealer/Authorised Repairer, you may be asked to quote the VIN number.
6. End of fascia (passenger side) - Passenger airbag label.
7. Sun visor - Airbag label, vehicle handling label.
8. Base of right-hand B pillar - Tyre pressure label, Airbag warning label - Vehicle Identification Number plate (China).
9. Left-hand B pillar - Airbag warning label, Vehicle Identification Number plate (except China).
10. Inside fuel filler flap - Fuel specification label.
It is important that you are familiar with these subjects to ensure that your vehicle and its features are used safely.
READ NEXT:
This is the calendar month and year in which the body and power train assemblies were conjoined and the vehicle was driven from the production line. The vehicle built date is shown on the tyre pr
Service Manual for first generation (L538) Range Rover Evoque. Land Rover engineers have developed the Range Rover Evoque to provide customers with a polished driving experience that combines dynamic
SEE MORE:
Trailer hitch assemblies have different weight capacities. Toyota recommends the use of Toyota hitch/bracket for your vehicle. For details, contact your Toyota dealer. If you wish to install a trailer hitch, contact your Toyota dealer. Use only a hitch that conforms to the gross trailer weight
If the PKSB (Parking Support Brake) determines that a collision with a detected object is possible, the engine output will be restricted to restrain any increase in the vehicle speed. (Engine output restriction control: See figure 2.) Additionally, if the accelerator pedal continues to be depressed,
© 2011-2023 Copyright www.rrevoque.org