Range Rover Evoque: Beltminder
A front and rear seat Beltminder system warns the driver when the seat belt of an occupied seat is not fastened or is unfastened during a journey.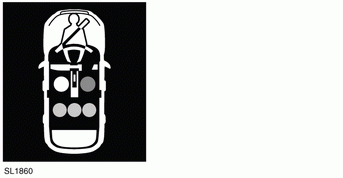 Beltminder
A graphic accompanied by a text message in the message centre indicates which seat belts are fastened at the start of a journey and also when a seat belt is fastened or unfastened during a journey.
Each seating position is represented by a passenger icon, the colour of which indicates the seat belt status: - Green - seat belt in the indicated position is fastened.
- Red - seat belt in the indicated position has been unfastened while the vehicle ignition is on. This indicator will turn grey after 30 seconds.
- Grey - seat belt not fastened.
Note: The indicators will be displayed for 30 seconds each time there is a status change, e.g., a seat belt is unfastened or fastened or a door is opened and then closed.
In addition, an audible warning will sound under the following conditions: - The seat belt of an occupied front seat is not fastened or is unfastened during a journey.
- A rear seat belt is unfastened.
Note: If a heavy object is placed on the front passenger seat, it may activate the Beltminder feature. It is recommended that any objects placed on the front passenger seat are secured using the seat belt.
READ NEXT:
For optimum safety, children should travel in the rear of the vehicle at all times; front passenger seat travel is not recommended. However, if it is essential that a child travels in the fron
Crash statistics show that children are safest when properly restrained in a child or infant restraint system that is secured in a rear seating position. Information given within the table i
SEE MORE:
Removal NOTES: This procedure covers the removal and installation of both rear seat backrests and the LH rear seat backrest cover. The RH rear seat backrest cover is similar. All notes and cautions must be followed strictly to avoid any chance of NVH or failure of the rear seat backrests. Some v
Removal NOTES: The suspension top mount is manufactured from mild steel and RP220. The service panel is serviced not fully spot welded. The panel is serviced less its weld studs 1. In this procedure, to make sure the vehicle is correctly aligned, it must be placed on an approved alignment jig. 2.
© 2011-2021 Copyright www.rrevoque.org