Range Rover Evoque: Engine - Component Location, System Operation and Component Description
Component Location
EXTERNAL VIEW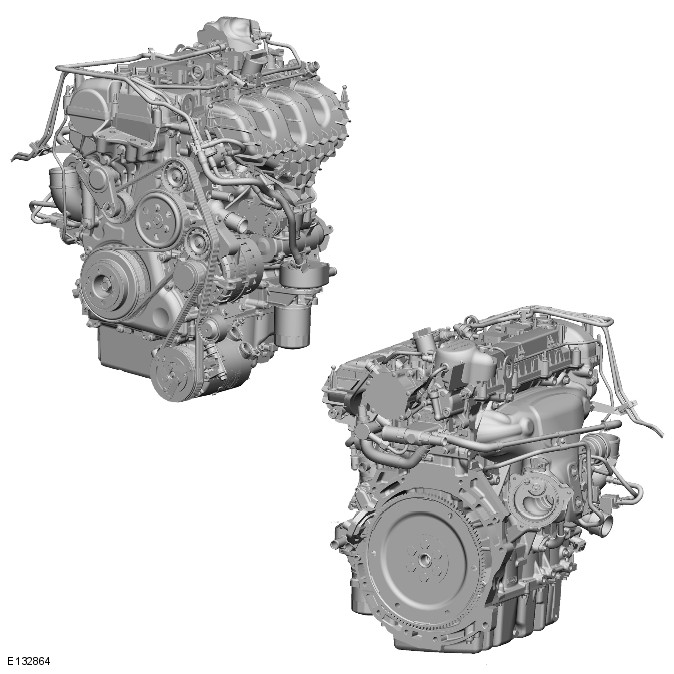 Overview
OVERVIEW
The 2.0L Gasoline Turbocharged Direct Injection (GTDi) engine is an in-line, double overhead camshaft, 4 cylinder engine, which is transverse mounted in the engine compartment. The engine weight is kept to a minimum by using aluminum for the cylinder block, cylinder head and oil pan.
The engine uses a Bosch high pressure direct injection fuel system with fuel pressure provided by a high pressure pump, driven from the exhaust camshaft. The fuel system is a returnless system using 7 hole injectors to supply the cylinders.
The turbocharger design uses a fabricated steel exhaust manifold with an integral turbocharger housing. A Borg-Warner K03 turbocharger is located on the housing and features a pressure controlled, solenoid operated wastegate and water cooled bearing housing.
The double overhead camshafts use VCT (variable camshaft timing) which allows the timing of the intake and exhaust valves to be adjusted independently of each other. The system is operated by 2 VCT solenoids which are controlled by the ECM (engine control module) using information from 2 CMP (camshaft position) sensors.
The direct fuel injection system uses a camshaft driven high pressure fuel pump to supply a fuel rail with pressurized fuel.
The fuel rail delivers fuel at a controlled pressure to all 4 fuel injectors. The direct fuel injection system, along with advanced piston and combustion chamber design and the turbocharger provide improved fuel consumption and reduced emissions.
Technical Specifications
System Operation
System Operation
Operation of the engine is controlled by the ECM (engine control module).
Refer to: Electronic Engine Controls (303-14B Electronic Engine Controls - GTDi 2.0L Petrol, Description and Operation).
READ NEXT:
Component Description Front crankshaft oil seal Front cover assembly Knock sensor - cylinders 1 and 2 Gasket - thermostat housing Thermostat Cylinder block Knock sensor - cylinders 3 and 4 B
Component Description Oil level gage Spark plug (4 off) Variable valve timing solenoid valve - Inlet camshaft Variable valve timing solenoid valve - Exhaust camshaft Ignition coil and plug cap
Engine Oil Draining and Filling Draining NOTE: Removal steps in this procedure may contain installation details. 1. WARNING: Make sure to support the vehicle with axle stands. Raise and support the ve
SEE MORE:
Front Door Latch Removal NOTES: Removal steps in this procedure may contain installation details. Some variation in the illustrations may occur, but the essential information is always correct. Make sure the door window glass is in the fully closed position. 1. Refer to: Exterior Front Door Hand
Always turn off the ignition system and the affected electrical circuit, before replacing a fuse. Fit Land Rover approved replacement fuses of the same rating and type, or fuses of matching specification. Using an incorrect fuse, may result in damage to the vehicle's electrical system and
© 2011-2023 Copyright www.rrevoque.org