Range Rover Evoque: Installing an isofix child seat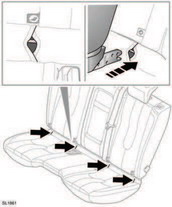 Installing an isofix child seat
To install an ISOFIX child seat:
1. Locate the ISOFIX locking mechanism.
2. Slide the child seat into the locking mechanism.
3. If an upper tether is fitted to the child seat, ensure it is properly secured to the upper tether anchorages on the rear of the seats.
Test the security of the child restraint. To do this, attempt to pull the restraint away from the vehicle seat and twist the restraint from side to side. Even if the restraint appears secure, you should still check the anchor points visually, to ensure correct attachment.
Note: Always ensure that if an upper tether is provided, it is fitted and tightened correctly.
READ NEXT:
WARNING: Child restraint anchorages are designed to withstand only those loads imposed by correctly fitted child restraints. Under no circumstances are they to be used for adult seat belts, ha
1. Install the child restraint securely in one of the rear seating positions. 2. Pass the tether strap over the seat back and beneath the head restraint. 3. Attach the tether strap hook to the tet
Airbag supplementary restraint system (SRS) 1. Front passenger's airbag 2. Curtain airbags 3. Side airbags 4. Knee-bolster airbag 5. Driver's airbag Note: The general location of airbags f
SEE MORE:
The TPM system provides a low pressure warning and does not re-inflate your tyres. Tyre pressures should be checked regularly using an accurate pressure gauge when cold. The TPM system can NOT register damage to a tyre. Regularly check the condition of your tyres, especially if the vehicle
The seat belt pre-tensioners activate in conjunction with the SRS to provide additional protection in the event of a severe frontal impact. They automatically reduce any slack in a seat belt to reduce forward movement of a front seat occupant. The seat belt pre-tensioners will activate onl
© 2011-2023 Copyright www.rrevoque.org