Range Rover Evoque: Touch screen overview
Note: Physical controls are referred to as hard keys. Virtual buttons on the touch screen are referred to as soft keys.
Screen options will vary depending on vehicle specification and set-up.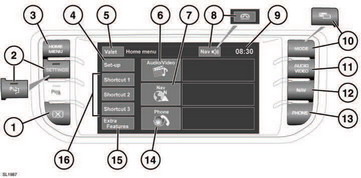 Touch screen overview
1. Screen on/off. The first use after switching the ignition on will display the Home Menu. Subsequent switching on will display the last used screen or menu.
2. SETTINGS. Press for direct access to the settings menu. When Park Assist is specified, the icon is changed and the button will turn Park Assist on and off. The Settings menu is then accessed via the touch screen.
3. HOME MENU. Press for direct access to the Home menu. Content will depend upon vehicle specification and options selected.
4. Touch to select the Set-up menu.
5. Touch to select Valet mode.
6. Touch to select the Audio/Video menu. An overview of current audio/video information is displayed.
7. Touch to select the On road Navigation menu. Current set destination is displayed.
8. While navigation is operating, touch to repeat the last given navigation instruction.
During a phone call, the icon is temporarily changed. Touch to end the call.
9. Time display. Touch to select time or date adjustment.
10. MODE. Press repeatedly to scroll through all audio/video sources. When Dual view is fitted, the button icon is changed.
11. AUDIO VIDEO. Press for direct access to the Audio/Video menu.
12. NAVIGATION. Press for direct access to the Navigation menu.
13. PHONE. Press for direct access to the Telephone menu.
14. Touch to select Phone.
15. Extra features. Touch to display list.
16. Shortcut keys. Use for personal shortcuts to any part of the system. Shortcuts can be made in the Set-up menu.
READ NEXT:
Always run the engine during prolonged use of the touch screen. Failure to do so may discharge the vehicle battery, preventing the engine from starting. Avoid spilling or splashing liquids onto
Some touch screen display icons are displayed on subsequent screens and may not all be displayed at the same time, e.g. Back soft key: Touch to return to the previous screen displayed.
Some menus and control screens will appear as pop-ups, overlaying the current screen. Warning and information pop-ups may also appear on the display. Take notice of any warnings and follow any on-
SEE MORE:
Remove the spare wheel prior to jacking the vehicle, to avoid destabilising the vehicle when raised. Do not use power tools to loosen the spare wheel. Doing so may damage the mechanism. 1. To access the temporary spare wheel, fold forward the rear edge of the cover then remove it. 2.
WARNINGS: Fuel may not give adequate warning before toxic or harmful effects arise. Exposure to fuel can be harmful and can cause severe health damage or death. Extreme care must be exercised when handling hot fluids. Always wash off spilled fluids from affected areas of skin immediately. Hig
© 2011-2020 Copyright www.rrevoque.org