Range Rover Evoque: Touch screen remote control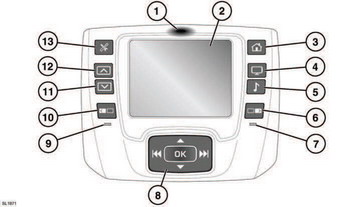 Touch screen remote control
1. Press here to undock remote control.

Do not press the touch screen to undock the remote control.
2. Touch screen.
3. Home screen.
4. Video source select.
5. Audio source select.
6. Right screen select.
7. Right screen tell-tale. (illuminates when right screen has been selected).
8. Cursor movement and option select buttons.
9. Left screen tell-tale. (illuminates when left screen has been selected).
10. Left screen select.
11. Screen brightness - decrease.
12. Screen brightness - increase.
13. RSE settings.
READ NEXT:
The system is operated using the remote control. To release the remote from the docked position, press at the top of the remote (1) to unlatch it. Do not attempt to pull the remote control ou
The volume control for each set of headphones is adjusted on the headphones. Press the channel selector button to cycle through available channels. Select the channel appropriate for the required
The remote control battery is automatically recharged while the remote is docked. The battery is not serviceable and should not be changed or removed by the user.
SEE MORE:
1. Press to open the powered tailgate. 2. Press and release to close the powered tailgate. After the tailgate has opened to its set height, it can be manually raised or lowered. If the tailgate fails to open or close correctly, close it manually then press the tailgate release switch again.
Seek qualified assistance immediately if brake pedal travel is unusually long or if there is any significant loss of brake fluid. Driving under such conditions could result in extended stopping distances or complete brake failure. Brake fluid is highly toxic - keep containers sealed and out
© 2011-2020 Copyright www.rrevoque.org