Range Rover Evoque: Changing the smart key batttery
When the battery needs renewing, there will be a significant decrease in the effective range and the message SMART KEY BATTERY LOW will be displayed in the message centre.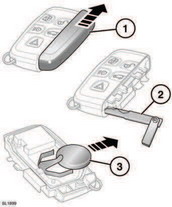 To renew the battery: 1. Slide open the side cover.
2. Remove the emergency key and fit into the receiver.
3. With the key unfolded, twist it to split the Smart Key case open.
4. Remove the old battery and fit a new CR2032 type battery (available from your Dealer), with the positive (+) side upwards.
Note: Avoid touching the new battery, as moisture/oil from fingers can reduce battery life and corrode the contacts.
Refit the parts in reverse order, ensuring that they click securely into place.

Battery disposal: Used batteries must be disposed of correctly, as they contain harmful substances.
Seek advice on disposal from your Dealer and/or your local authority.
READ NEXT:
CAUTION: No modifications or additions should be made to the anti-theft system. Such changes could cause the system to malfunction. There are two levels of security: - Single locking. With all d
If you are uncertain whether the vehicle is locked and armed (either by single or double locking), press either the Smart Key lock button or, if Keyless entry is fitted, touch an exterior door han
SEE MORE:
Antifreeze is poisonous and can be fatal if swallowed - keep containers sealed and out of the reach of children. If accidental consumption is suspected, seek medical attention immediately. If the fluid comes into contact with the skin or eyes, rinse immediately with plenty of water. The
Your vehicle is equipped with a front passenger occupant classification system. This system detects the conditions of the front passenger seat and activates or deactivates the following SRS airbags. SRS front passenger airbag SRS front passenger airbag SRS warning light Front passenger seat b
© 2011-2023 Copyright www.rrevoque.org