Range Rover Evoque: Checking the tyre pressures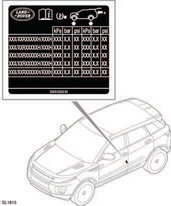 Tyre information label location.

Tyre pressures should be checked regularly using an accurate pressure gauge, when the tyres are cold.
The following procedure should be used to check and adjust the tyres pressures.
1. Remove the valve cap.
2. Firmly attach a tyre pressure gauge/inflator to the valve.
3. Read the tyre pressure from the gauge and add air if required.
4. If air is added to the tyre, remove the gauge and re-attach it before reading the pressure. Failure to do so may result in an inaccurate reading.
5. If the tyre pressure is too high, remove the gauge and allow air out of the tyre by pressing the centre of the valve. Refit the gauge to the valve and check the pressure.
6. Repeat the process, adding or removing air as required, until the correct tyre pressure is reached.
7. Refit the valve cap.
READ NEXT:
Keep the valve caps screwed down firmly to prevent water or dirt entering the valve. Check the valves for leaks when checking the tyre pressures.
Do not drive the vehicle with a punctured tyre. Even if the punctured tyre has not deflated, it is unsafe to use, as the tyre may deflate suddenly at any time.
Do not fit cross ply tyres. Do not fit tubed tyres. Do not rotate tyres around the vehicle. If the use of tyres not recommended by Land Rover is unavoidable, ensure that you read and fully compl
SEE MORE:
Remove the spare wheel prior to jacking the vehicle, to avoid destabilising the vehicle when raised. Do not use power tools to loosen the spare wheel. Doing so may damage the mechanism. 1. To access the temporary spare wheel, fold forward the rear edge of the cover then remove it. 2.
Removal NOTES: The removal of this component involves cutting an aperture in the evaporator housing wall and cutting through the high and low pressure A/C lines. A service repair kit is supplied to cover this procedure. Removal steps in this procedure may contain installation details. All vehicle
© 2011-2023 Copyright www.rrevoque.org