Range Rover Evoque: Cleaning after off-road driving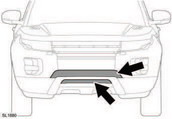 Ensure that the areas around air intakes and the front grille are clean and clear of debris. Pay particular attention to the lower grille and radiator. Failure to do so may cause the engine to overheat, leading to severe engine damage.
Ensure that the vehicle underside is cleaned as soon as possible after driving off-road.
CLEANING THE ALLOY WHEELS

Only use approved wheel cleaning products.
READ NEXT:
Clean the rear window with a soft cloth to avoid damaging the heating element. Do not scrape the glass or use any abrasive cleaning fluid. Mirror glass is particularly susceptible to damage. Wash
To avoid damaging the heating elements when cleaning the inside of the rear screen, use only a soft damp cloth or chamois leather. Do not use solvents or sharp objects to clean the glass.
Regularly inspect the paintwork for damage. Any stone chips, fractures, or deep scratches, in the paint/bodywork should be repaired promptly. Bare metal will corrode quickly, and if left untreated
SEE MORE:
CAUTIONS: Diagnosis by substitution from a donor vehicle is NOT acceptable. Substitution of control modules does not guarantee confirmation of a fault, and may also cause additional faults in the vehicle being tested and/or the donor vehicle When probing connectors to take measurements in the co
Do not use RME (bio-diesel) except in the case of those proprietary diesel fuels which contain a mix of up to 7%. Land Rover vehicles can accept no responsibility for damage caused by using RME in concentrations greater than 7%. Use only high quality diesel fuel according to EN590 or equi
© 2011-2023 Copyright www.rrevoque.org