Range Rover Evoque: Dvd/video media controls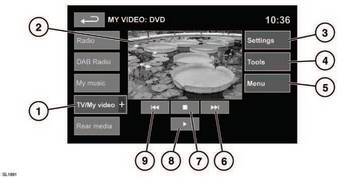 Dvd/video media controls
See 104, TOUCH SCREEN OVERVIEW.
1. TV/My video. TV band/video input selection: - Touch the + icon to view and select DVD or other forms of video media (CD/USB), provided the relevant media is present. The selected option will be displayed.
Note: After 5 seconds without use, the TV/My video menu will close.
2. Preview screen for video media information: Touch to select full screen mode.
Briefly touch the screen again to view the controls at any time.
To return to preview mode, touch and hold the full screen view.
3. Settings. Depending on the video media specification, there are 2 sub-menus within settings: Options and VOD (Video On Demand).
VOD allows playing of DivX VOD content from a video media. The eight digit registration code will be displayed when the VOD soft key is touched.
The player must also be registered with DivX. See DivX information 114, LICENSING.
4. Tools. The following options can be selected: - GOTO.
The GOTO menu allows you to access specific parts of the video, by Chapter or Title number.
- Subtitles.
- Angle.
- Audio.
5. Menu. Select to view the video media menu. On some screens this may be replaced by a Browse soft key.
6. Seek up: Select to view the next DVD chapter or next chapter of the video media 7. Select to pre-stop playback. A second touch will stop and reset the DVD.
8. Select to start/restart play.
9. Seek down: Select to view the previous DVD chapter or previous chapter of the video media.
For information on the CD/DVD loading slot and the eject button, and the use of the audio/video controls on the audio unit and steering wheel, see 111, AUDIO/VIDEO CONTROLS.
READ NEXT:
DivX content is encrypted to ensure copyright protection. The content will play only on registered playback devices. See DivX information 114, LICENSING. When the registration process is complete,
When full screen mode is selected, the seek controls operate in the same manner as they do in preview mode. Display format: Use the relevant soft key to select the 4:3, 16:9 or Zoom option. Digit
When the vehicle is moving the video picture will automatically be inhibited. The touch screen will display the TV/My video screen and the relevant safety message will be displayed. If Dual view i
SEE MORE:
Removal NOTES: Removal steps in this procedure may contain installation details. Some illustrations may show the engine removed for clarity. 1. WARNING: Make sure to support the vehicle with axle stands. Raise and support the vehicle. 2. Disconnect the battery ground cable. Refer to: Specification
For first time programming, ensure that the engine is switched off: 1. Ensure that the ignition is on (but with the engine switched off). 2. Press and hold the two outer HomeLink buttons. Keep the buttons pressed until the indicator lamp begins to flash (this will take approximately 20 second
© 2011-2023 Copyright www.rrevoque.org