Range Rover Evoque: Electric Steering Column Lock Module (ESCL)
Steering Column Lock Module (VIM)

CAUTION: Diagnosis by substitution from a donor vehicle is NOT acceptable. Substitution of control modules does not guarantee confirmation of a fault, and may also cause additional faults in the vehicle being tested and/or the donor vehicle

NOTES:
If the control module or a component is suspect and the vehicle remains under manufacturer warranty, refer to the Warranty Policy and Procedures manual (section B1.2), or determine if any prior approval programme is in operation, prior to the installation of a new module/component
Generic scan tools may not read the codes listed, or may read only 5-digit codes. Match the 5 digits from the scan tool to the first 5 digits of the 7-digit code listed to identify the fault (the last 2 digits give extra information read by the manufacturer-approved diagnostic system)
Check and rectify basic faults before beginning diagnostic routines involving pinpoint tests
Inspect connectors for signs of water ingress, and pins for damage and/or corrosion
If DTCs are recorded and, after performing the pinpoint tests, a fault is not present, an intermittent concern may be the cause. Always check for loose connections and corroded terminals
The table below lists all Diagnostic Trouble Codes (DTCs) that could be logged in the Steering Column Lock Module, for additional Diagnosis and Testing information refer to the relevant Diagnosis and Testing Section.
For additional information, refer to: Anti-Theft - Passive (419-01B Anti-Theft - Passive, Diagnosis and Testing).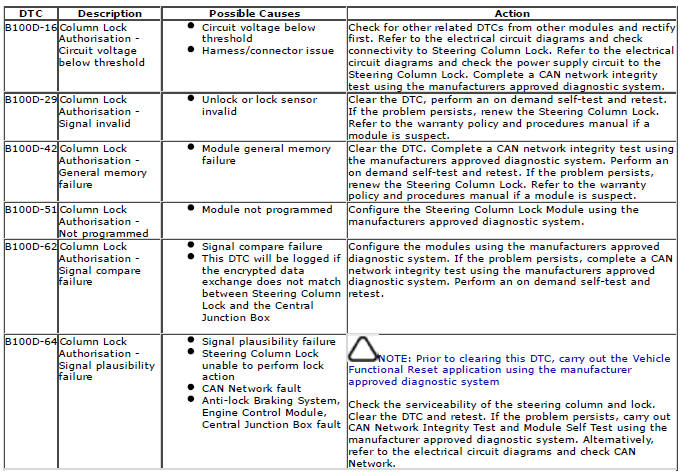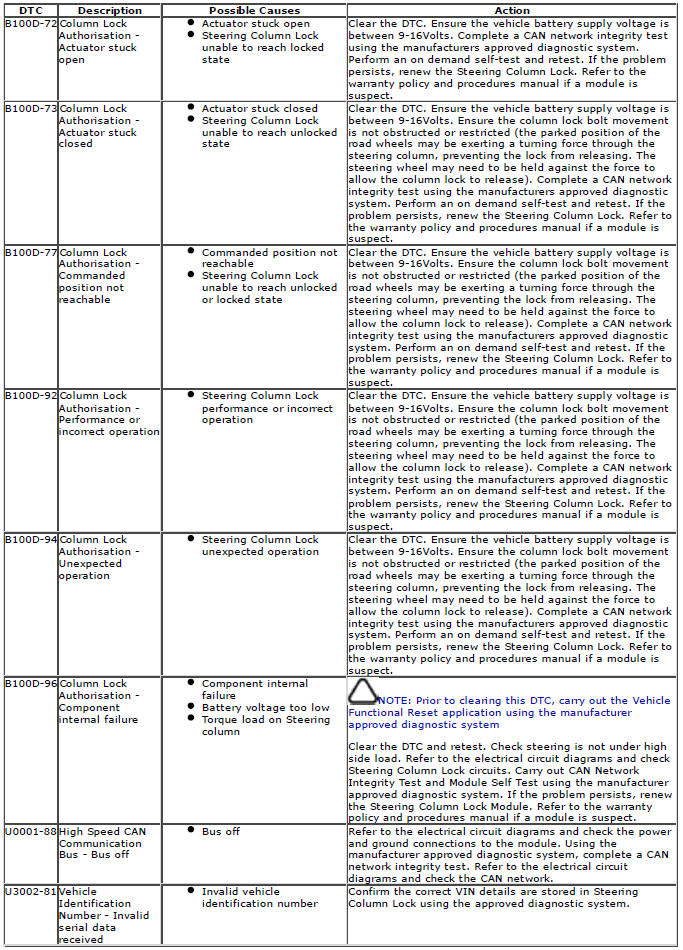 READ NEXT:
CAUTION: Diagnosis by substitution from a donor vehicle is NOT acceptable. Substitution of control modules does not guarantee confirmation of a fault, and may also cause additional faults in
CAUTION: Diagnosis by substitution from a donor vehicle is NOT acceptable. Substitution of control modules does not guarantee confirmation of a fault, and may also cause additional faults in
Fuel Fired Booster Heater Module (AHCM) CAUTION: Diagnosis by substitution from a donor vehicle is NOT acceptable. Substitution of control modules does not guarantee confirmation of a fault, a
SEE MORE:
Coil Spring Suspension Wheel Alignment Specification (All Markets) - Front NOTE: All figures are with vehicle at 'Showroom' ride height - full fluids, full tank of fuel, no occupants/luggage, tires inflated to normal pressures Wheel Alignment Specification (All Markets) - Rear NOTE: All figures a
Should the sensor require replacing, it should be carried out by a Dealer/Authorised Repairer. A replacement sensor must be fitted to a running wheel in order to be recognised by the system. The vehicle needs to be stationary for 15 minutes during the sensor fitment before the system is ready
© 2011-2023 Copyright www.rrevoque.org