Range Rover Evoque: Head restraints

Adjust the head restraint so that the top of the head restraint is above the centre line of the head. An incorrectly adjusted head restraint increases the risk of death or serious injury in the event of a collision.
Do not drive, or carry passengers with the head restraints removed from occupied seats. The absence of a correctly adjusted head restraint increases the risk of neck injury in the event of a collision.
Never adjust the head restraints while the vehicle is in motion.
Always store a removed head restraint securely.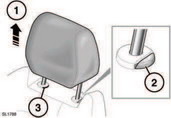 1. Move the head restraint up or down to the required position.
2. Press the locking collar to adjust the restraint downwards.
Manual head restraints can be removed, if required. Raise the head restraint to its uppermost position and press the locking collar (3). Lift the restraint out of the seatback.
Note: Head restraints fitted with Rear seat entertainment screens must NOT be removed.
Ensure the head restraint is refitted before the seat is used by a passenger.
To refit the head restraint, ensure it is facing the correct direction, insert the stems of the head restraint into the sockets and push it downwards until at least the first click.
READ NEXT:
Models with 'sports' seats have non adjustable and non removable head restraints.
The front seats tilt and power slide forwards for entry to and exit from the rear seats. Operation is controlled by a lever and switch. 1. Lift the locking lever and pivot the seatback forwards.
SEE MORE:
Image Processing Module B (IPMB) 5 Camera System CAUTION: Diagnosis by substitution from a donor vehicle is NOT acceptable. Substitution of control modules does not guarantee confirmation of a fault, and may also cause additional faults in the vehicle being tested and/or the donor vehicle.
Removal NOTE: Removal steps in this procedure may contain installation details. 1. WARNING: Make sure to support the vehicle with axle stands. Raise and support the vehicle. 2. Disconnect the battery ground cable. Refer to: Specifications (414-01 Battery, Mounting and Cables, Specifications). 3. Re
© 2011-2023 Copyright www.rrevoque.org