Range Rover Evoque: Instrument panel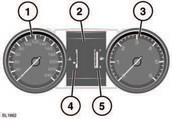 Instrument panel
1. Speedometer.
2. Driver Information Centre (message centre).
3. Tachometer.
4. Temperature gauge

Serious engine damage can occur if the vehicle is driven while the engine is overheating.
If the pointer moves onto the red line the engine is overheating. Stop the vehicle as soon as safety permits and allow the engine to idle until the temperature reduces. If, after several minutes, the temperature does not reduce, switch off the engine and allow to cool. If the problem persists, seek qualified assistance immediately.
Note: If engine overheating occurs, there may be a noticeable reduction in engine power and the air conditioning may cease operation. This is a normal operating strategy, to reduce load on the engine and assist with cooling.
5. Fuel gauge.

Never allow the engine to run out of fuel. The resultant misfire can seriously damage the catalytic convertor.
If the amber low fuel warning lamp illuminates, the vehicle should be refuelled as soon as possible. The approximate distance that can be travelled on the remaining fuel can be viewed via the trip computer range function.
As a reminder for the location of the fuel filler, there is an arrow next to the fuel pump symbol pointing to the relevant side of the vehicle.
READ NEXT:
Vehicle information and settings menu A number of vehicle features and display settings may be configured via the vehicle information and settings menu. To display and navigate through the vehic
Do not ignore warning messages.Take appropriate action and, when necessary, seek qualified assistance before driving the vehicle. If more than one message is active, each is displayed in turn
SEE MORE:
Dynamic route guidance will calculate an alternative route to avoid a traffic event when the system receives an event warning.The system calculates a new route for all sections. However, if any way points are set, the system calculates for the next way point.If the event on route is serious (c
Park assist is a driving aid only. It remains the driver's responsibility to drive with due care and attention during parking manoeuvres. Park assist may not detect moving objects such as children and animals, until they are dangerously close. Always use extreme caution when manoeuvring.
© 2011-2020 Copyright www.rrevoque.org