Range Rover Evoque: Seats - Diagnosis and Testing
Principle of Operation
For a detailed description of the seating systems and operation, refer to the relevant Description and Operation section of the workshop manual. REFER to: Seats (501-10 Seating, Description and Operation).
Inspection and Verification
CAUTION: Diagnosis by substitution from a donor vehicle is NOT acceptable. Substitution of control modules does not guarantee confirmation of a fault and may also cause additional faults in the vehicle being checked and/or the donor vehicle.
NOTES:
Check and rectify basic faults before beginning diagnostic routines involving pinpoint tests.
If the control module is suspect and the vehicle remains under manufacturer warranty, refer to the Warranty Policy and Procedures manual or determine if any prior approval programme is in operation, prior to the installation of a new module.
Generic scan tools may not read the codes listed, or may read only five digit codes. Match the five digits from the scan tool to the first five digits of the seven digit code listed to identify the fault (the last two digits give additional information read by the manufacturer approved diagnostic system).
When performing electrical voltage or resistance tests, always use a digital multimeter (DMM) accurate to three decimal places, and with an up-to-date calibration certificate. When testing resistance, always take the resistance of the DMM leads into account.
Inspect connectors for signs of water ingress, and pins for damage and/or corrosion.
If DTCs are recorded and, after performing the pinpoint tests, a fault is not present, an intermittent concern may be the cause. Always check for loose connections and corroded terminals.
1. Verify the customer concern.
2. Visually inspect for obvious signs of mechanical or electrical damage.
Visual Inspection
3. If an obvious cause for an observed or reported concern is found, correct the cause (if possible) before proceeding to the next step.
4. If the cause is not visually evident, verify the symptom and refer to the Symptom Chart, alternatively check for Diagnostic Trouble Codes (DTCs) and refer to the DTC Index.
Symptom Chart


DTC Index
For a list of Diagnostic Trouble Codes (DTCs) that could be logged on this vehicle, please refer to Section 100-00. REFER to: Diagnostic Trouble Code (DTC) Index - DTC: Module Name: Driver/Passenger Front Seat Module (100-00 General Information, Description and Operation).
Pinpoint Tests
PINPOINT TEST A : FRONT SEAT FORE/AFT MOVEMENT NOT FUNCTIONING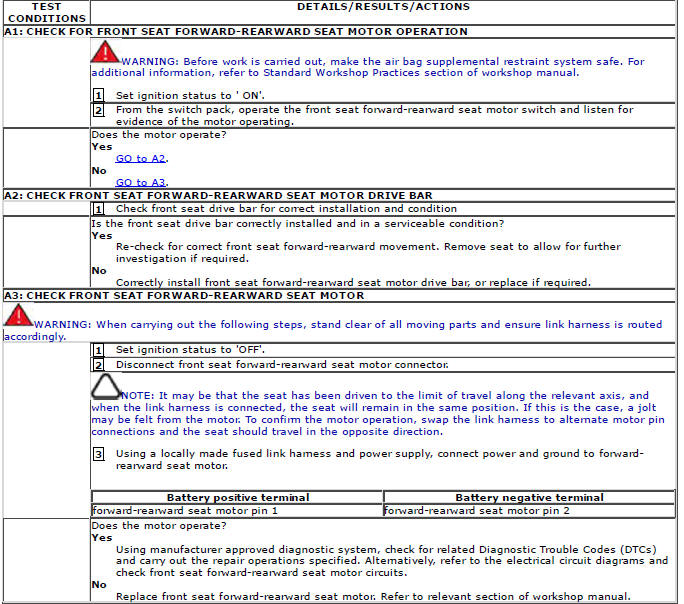 PINPOINT TEST B : FRONT SEAT EXCESSIVE FORWARD-REARWARD FREE PLAY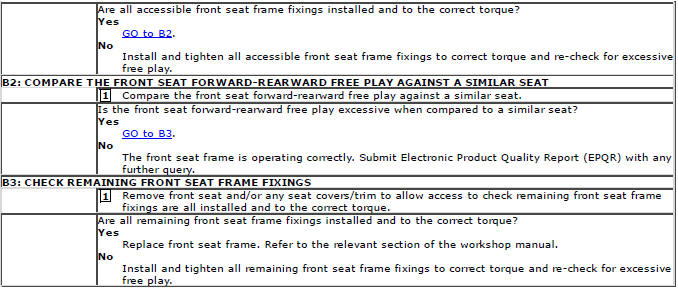 PINPOINT TEST C : FRONT SEAT FORWARD-REARWARD MOVEMENT NOISY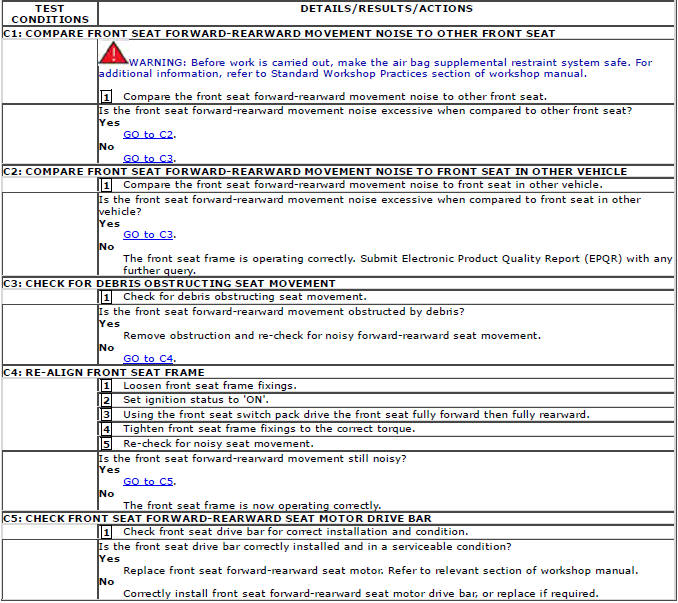 PINPOINT TEST D : FRONT SEAT HEIGHT, TILT AND/OR SEAT EXTENSION MOTOR MOVEMENT NOT FUNCTIONING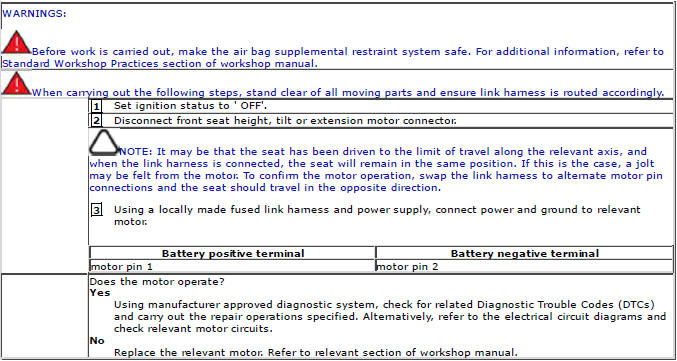 PINPOINT TEST E : FRONT SEAT HEIGHT, TILT AND/OR EXTENSION MOVEMENT NOISY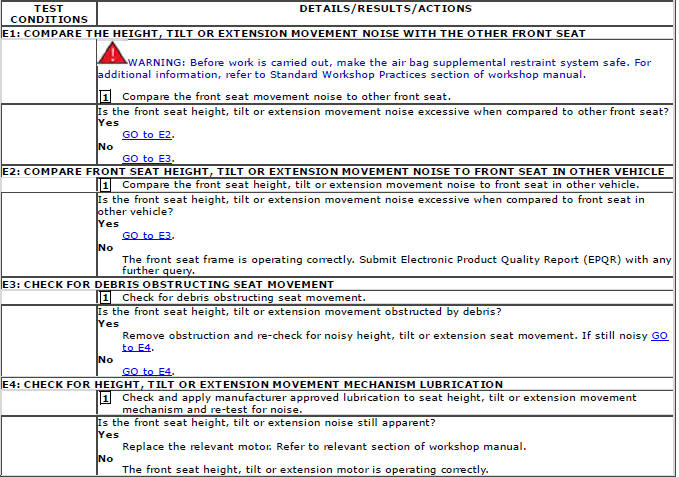 Component Location
COMPONENT LOCATION - SHEET 1 OF 2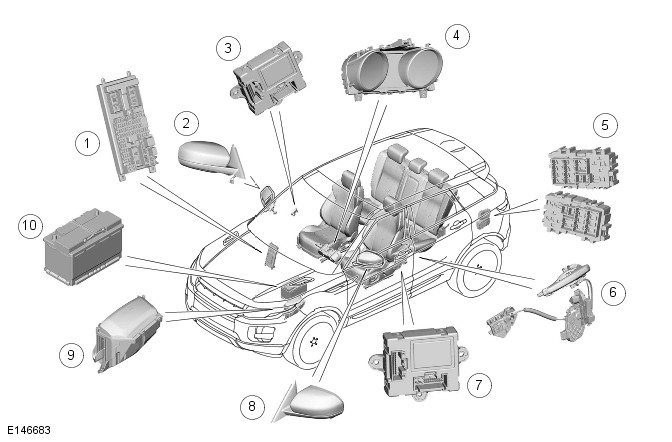 CJB (central junction box)
RH (right-hand) door mirror
RH front door module
Instrument cluster
RJB (rear junction box)
LH (left-hand) front door latch and ajar switch
LH front door module
LH front door mirror
BJB (battery junction box)
Battery
COMPONENT LOCATION - SHEET 2 OF 2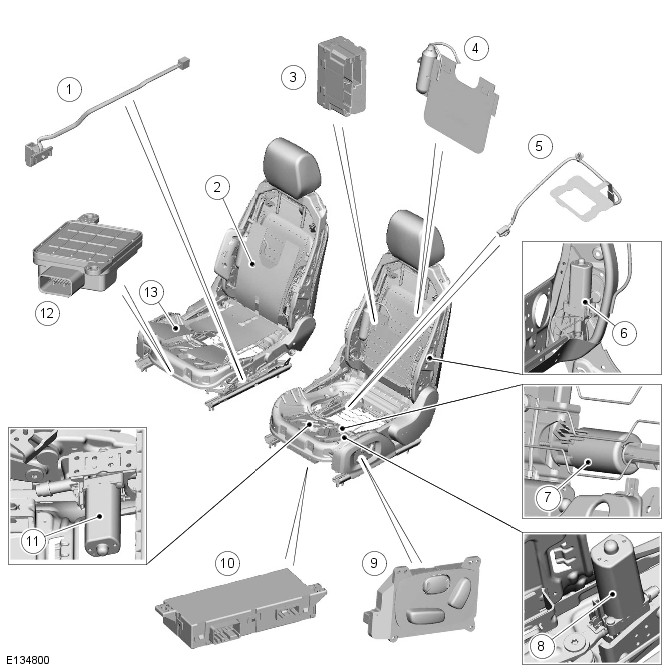 Seat position sensor
Heated seat backrest element
Heated seat module
Power operated lumbar support
Seat occupancy detection sensor
Seat recline motor
Seat forward-rearward motor
Seat height motor
Seat switch pack
Seat memory module
Seat tilt motor
Occupant classification sensor control module
Heated seat cushion element
Overview
OVERVIEW
Leather Seat Covers
Leather is a natural product, therefore it bears natural characteristics, such as grain variations, growth & bush marks.
These non-weakening marks show the true nature of the hide and are the hallmarks of Leather. In order to maintain the beauty of the vehicles natural Leather upholstery it requires regular cleaning, which if neglected, may cause deterioration.
Where dust and dirt are allowed to accumulate and become ingrained in the surface of the Leather, the upholstery may become permanently damaged.
Light coloured upholstery can be particularly susceptible to soiling and staining and care should be taken to ensure that where there is evidence of any soiling or staining on the upholstery then this should be cleaned immediately using the Jaguar/Land Rover approved products, failure to do this could lead to the stain becoming permanent, this applies to all leather upholstery and is not colour specific.
Leather trimmed seats will naturally exhibit areas of creasing and wrinkling over a period of time and is a normal characteristic as the Leather ages.
Particular care should be taken where there is evidence of soiling or staining on the leather, this should be cleaned immediately. Failure to do this could lead to the stain becoming permanent.
Particular care should be taken to prevent damage from studs, zips and buckles.
NOTES:
Please refer to Leather care label attached to seats for more information.
Creasing and wrinkling does not represent a manufacturing defect.
Damage from studs, zips and buckles do not represent manufacturing defects.
Use only Jaguar/Land Rover approved products in accordance with the instructions for use.
General
All vehicles, except those manufactured to North American Specification (NAS), are installed with manually operated front seats as standard. Options available include manually, electrically power operated front seats with or without memory function. The front seats may also be provided with arm rests to improve driver and front passenger comfort.
NAS vehicles are installed with power operated front seats as standard. The front seats feature arm rests to improve driver and front passenger comfort. A driver's power operated seat with memory functionality is provided as an option for NAS vehicles.
Depending on vehicle specification and trim level, vehicles may also feature front heated seats and a lumbar support system. Lumbar support is provided as an electrically operated system, and it is available for both seats.
The rear seat is manufactured to the same specification for all vehicles, and is provided with ISOFIX child safety seat restraints.
All seats incorporate adjustable head restraints. Depending on the vehicle specification, the seats are upholstered in either partial leather, grained leather, or Windsor leather finish.
READ NEXT:
Control Diagram NOTE: A = Hardwired; N = Medium speed CAN (controller area network) bus; O = LIN (local interconnect network) bus CONTROL DIAGRAM - FRONT POWER OPERATED NON-MEMORY SEATS Driver sea
Removal NOTE: Removal steps in this procedure may contain installation details. 1. Disconnect the battery ground cable. Refer to: Specifications (414-01 Battery, Mounting and Cables, Specifications).
Removal WARNINGS: To avoid accidental deployment and possible personal injury, the backup power supply must be depleted before repairing or replacing any air bag supplemental restraint system (SRS)
SEE MORE:
The optional headlamp power wash operates automatically with the windscreen wash and will operate only If the headlamps are switched on and there is sufficient washer fluid in the reservoir. Headlamp wash operates every fourth operation of the screen washers, provided the headlamps are still
Remove the spare wheel prior to jacking the vehicle, to avoid destabilising the vehicle when raised. Do not use power tools to loosen the spare wheel. Doing so may damage the mechanism. 1. To access the temporary spare wheel, fold forward the rear edge of the cover then remove it. 2.