Range Rover Evoque: Surround camera system
The camera home page is accessed from the Home menu screen. If Cameras has not been set as a short cut, touch Extra features to display the list.
With the engine running, the surround camera system uses 5 discretely placed cameras to assist in manoeuvring the vehicle.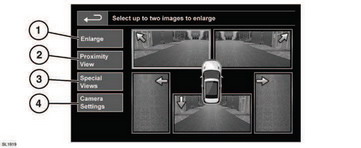 1. Enlarge:
To enlarge a camera view, touch the image then touch the Enlarge soft key. Any 2 images can be selected and enlarged to view side-by-side on the screen.
When viewing two images, one of them can be selected to view as a full screen image. It can then be zoomed into and panned around using the magnifier and arrow icons.
2. Proximity View:
Selecting Proximity View will display a combination of three images from the front and passenger side cameras.
Automatic Proximity View - Japan only.
When Drive or Reverse is selected, the forward or rear view will be displayed.
Once the vehicle speed exceeds 18 km/h (11 mph) or the return icon is pressed, the camera screen will disappear.
Note: Proximity view can be accessed at any time, by touching Proximity View on the Camera home page.
3. Special Views:
A selection of pre-set views can be displayed by selecting Special Views.
They are provided to assist with difficult manoeuvres and are: - Kerb view: Shows views from the 2 front cameras.
- Junction view: Shows views from the two side cameras.
4. Camera Setting - Japan only:
Touch the Camera Setting soft key to access the camera options page. To deactivate the Semi-auto camera functionality select Off. The Proximity view is now only accessible by manual activation using the Proximity View soft key.
Hitch assist
Hitch assist is a user selectable touch screen feature that can aid the process of guiding the vehicle to the trailer tow hitch. Use Hitch assist while reversing the vehicle to the trailer hitch.
Proceed as follows: 1. Engage reverse gear and touch the screen.
2. Select Hitch assist. A single hitch line is projected onto the rear view image.
3. Reverse the vehicle towards the trailer.
4. As the vehicle closes to within 0.6 m (23.5in) of the trailer tow hitch, an automated zoom feature is operated to enlarge the view.
5. Continue the manoeuvre carefully until the vehicle and trailer are as close as required.
READ NEXT:
Audio/video controls There are two levels of infotainment with touch screen. The full system has the additional features of Stored CD and DVD, TV/My video and Rear media. Illustrations show the
To view the settings menu, press the SETTINGS button (2). When Park Assist is specified, the icon is changed and the button will turn Park Assist on and off. The Settings menu is then accessed via
SEE MORE:
Land Rover vehicles are fitted with emission and evaporative control systems. In many countries it is unlawful to tamper, modify or replace such equipment and legal penalties apply if the laws are flouted. Land Rover Dealers/Authorised Repairers are properly equipped to perform repairs and to
Introduction This manual has been written in a format that is designed to meet the needs of technicians worldwide. The objective is to use common formats and include similar content in each manual. This manual provides general descriptions for accomplishing diagnosis and testing, service and repa
© 2011-2023 Copyright www.rrevoque.org