Range Rover Evoque: Voice control operation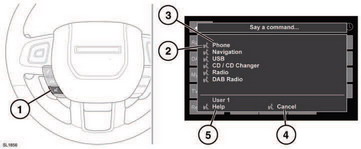 Voice control operation
1. Voice button: Press briefly to start a voice session. A pop up will appear on the touch screen. Press and hold to cancel a voice session.
Note: Briefly press the Voice button during a voice session, to interrupt audible feedback. Wait for the tone to sound before giving the next command.
2. Voice symbol: Indicates that a command is available. Wait for the symbol to appear and a tone to sound before using the command.
3. Command list: Appears on the pop up panel, providing feedback and available commands at each stage of the voice session. Say an available command.
Note: As the commands are listed before the system is ready to listen, it is important to wait for the voice symbol to appear alongside the relevant command, before using the command.
4. When displayed, say Cancel to cancel the current voice session.
5. When displayed, say Help to get assistance during a voice session.
Note: The currently selected user (User 1 or User 2) is identified at the bottom of the command list.
Note: If a listed item is longer than the available space on the menu, ...> will appear. Use the seek controls on the steering wheel to view the entire entry. See 111, AUDIO/VIDEO CONTROLS items 13 and 14.
READ NEXT:
To listen to a tutorial detailing the operation of the Voice system: - Briefly press the Voice button to start a voice session. - Wait for the tone to sound, then say Voice tutorial. Alternative
This is a feature designed to enable the system to better recognise the vocal characteristics of a user, once the training has been completed. To carry out Voice training: - Select Setup from the
Voicetags enable the user to personalise the Voice system so that a single name can be used to call-up a navigation destination, telephone number or radio channel. To add a Voicetag: 1. Briefly p
SEE MORE:
A colder ambient local temperature will reduce pressure within the tyre. An effect is to decrease sidewall height and to increase tyre shoulder wear with the potential for tyre failure. Vehicle dynamics could also be adversely affected. Tyre pressures can be adjusted to compensate before the
Component Location COMPONENT LOCATION Manual transmission Selector lever assembly Overview OVERVIEW The M66EH50 manual transmission is a 6 speed unit manufactured by Getrag-Ford in Cologne, Germany. The transmission is a highly compact 4 shaft design, incorporating the front final drive gear.
© 2011-2023 Copyright www.rrevoque.org