Range Rover Evoque: Automatic transmission
The rotary drive selector rotates in either direction. At engine start up, the selector elevates out of its parked position.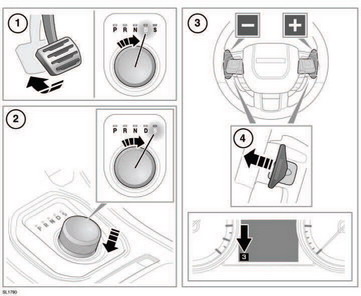 1. To select D (Drive) or R (Reverse) gear, apply the foot brake then rotate the drive selector. The related LED by the selector will illuminate.
Note: If pressure is applied to the selector before the foot brake is applied, the selected gear may not be available. In this situation, remove pressure from the selector, ensure that the foot brake is applied and select the required gear as described.
2. To select S (Sport) mode from D, press the drive selector down and rotate to S. The related LED by the selector will illuminate.
3. CommandShiftTM gear selector paddles (left paddle for downshifts, right paddle for upshifts).
4. Pull a paddle briefly to change gear.
To exit CommandShiftTM mode and return to Sport mode, pull and hold the upshift (+) paddle for approximately one second.To return to Drive mode, move the selector back to the D position.
5. The selected gear will be displayed in the message centre.

Do not allow the vehicle to remain stationary for a sustained period, with a gear selected and the engine running.
This vehicle must not be push or tow started.
READ NEXT:
Use when the vehicle is parked. The transmission will be locked. Park (P) or Neutral (N) should be engaged and the parking brake applied when the vehicle is stationary. Always select P and sw
Never select Reverse (R) when the vehicle is in forward motion. Before selecting reverse gear, ensure the vehicle is stationary and the brakes are applied. Rotate to R.
Disconnects drive to the wheels. Use the parking brake while N is selected. Do not use for vehicle recovery purposes.
SEE MORE:
Valet mode allows the vehicle to be driven, e.g., by a parking attendant, but leaves the tailgate locked and restricts use of the touch screen. This prevents access to telephone numbers, navigation addresses and audio system settings. From the Home menu, select Valet: Enter a four digit Perso
Special Tool(s) 100-012 Slide Hammer 205-872 Installer, Transfer Case Seal 308-615 Remover, Seals 308-617 Depth Drill, Seal Remover Removal NOTES: Removal steps in this procedure may contain installation details. Some variation in the illustrations may occur, but the essential information is alway
© 2011-2022 Copyright www.rrevoque.org