Range Rover Evoque: Bolt and Nut Identification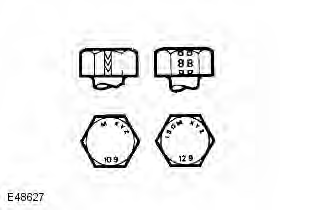 An ISO metric bolt or screw made of steel and larger than 6 mm in diameter can be identified by either of the symbols ISO M or M embossed or indented on top of the bolt head.
In addition to marks identifying the manufacturer, the top of the bolt head is also marked with symbols indicating the strength grade e.g. 8.8, 10.9, 12.9, 14.9. Alternatively, some bolts and screws have the M and strength grade symbol stamped on the flats of the hexagon.
Encapsulated ('Patched') bolts and screws
Encapsulated ('patched') bolts and screws have a thread locking agent applied to the threads during manufacture. Most thread locking agents are colored, the band of color extending for 360 degrees around the thread. Some locking agents however, are neutral in color and may not be so easily identified apart from a slightly darker area of thread where the locking agent has been applied. The locking agent is released and activated by the tightening process and is then chemically cured to provide the locking action.
Self-locking bolts and screws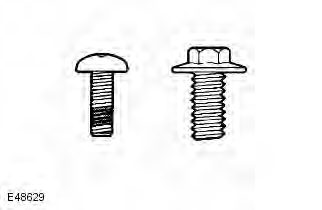 Unless stated in a specific repair procedure, self-locking bolts and screws i.e. nylon patched or trilobular thread can be reused provided that resistance is felt when the locking portion enters the female thread.
Nylon patched bolts and screws have a locking agent either applied to, or inserted in the threaded portion. They are identified by the presence of a colored section of thread extending approximately 180 degrees around the thread or by a colored plug inserted into the bolt.
Trilobular bolts have a special thread form which creates a slight interference with the thread of the hole or nut into which it is screwed.

CAUTION: Do Not reuse self-locking fasteners in critical locations e.g. drive plates/flywheel or engine bearings. Do not install non self-locking fasteners where a self-locking fastener is specified.
Trilobular bolts should not be used as a substitute for patched bolts.
Nut identification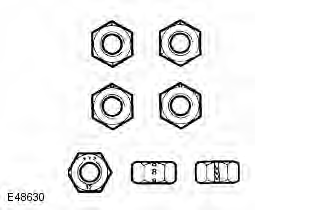 A nut with an ISO metric thread is marked on one face or one of the hexagonal flats with the strength grade symbol 8, 12, 14. Some nuts with the strength grade 4, 5 or 6 are also marked and some have the metric symbol M on the hexagonal flat opposite the strength grade marking.
A clock face system is sometimes used as an alternative method of indicating the strength grade. The external chamfers or a face of the nut is marked in a position relative to the appropriate hour mark on a clock face to indicate the strength grade.
A dot is used to locate the 12 o'clock position and a dash to indicate the strength grade. If the grade is above 12, two dots identify the 12 o'clock position.
When tightening a slotted or castellated nut, never loosen it to insert a split pin except where specified as part of an adjustment procedure. If difficulty is experienced in correctly positioning the slot, alternative washers or nuts should be selected.
Where a nut is tightened to adjust or maintain bearing pre-load, the tightening procedure must be adhered to.
Self-locking nuts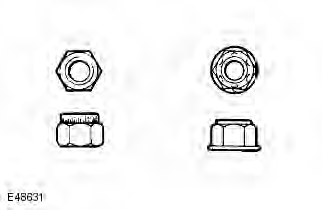 Unless stated otherwise, self-locking nuts once removed must be discarded and new nuts of the same type and strength grade installed.
Ball and Roller Bearings
When removing and installing bearings, make sure that the following practices are observed to make sure component serviceability:

CAUTION: Service tools have been developed for removing the majority of bearings; these must always be used where specified.
Remove all traces from bearing under inspection by cleaning with a suitable degreasant; maintain absolute cleanliness throughout operations.
Conduct a visual inspection for markings on rolling elements, raceways, outer surfaces of outer or inner surfaces of inner rings. Reject any bearings found to be marked since marking in these areas indicates onset of wear.
Hold inner race of bearing between finger and thumb of one hand and rotate outer race to check that it revolves absolutely smoothly. Repeat holding outer race and rotating inner race. DO NOT spin the bearing.
Rotate outer ring gently using a reciprocating movement whilst holding inner ring; feel for any check or obstruction to rotation. Reject bearing if movement is not absolutely smooth.
Check bearing for blueing or signs of overheating.
Lubricate bearing with the specified lubricant.
Inspect bearing surface of shaft and bearing housing for discoloration or other markings which indicate overheating of bearing or movement between bearing and seating.
Before installing bearing, make sure that shaft and bearing housing are clean and free from burrs.
If one bearing of a pair shows signs of wear, overheating etc., it is advisable to replace bearings as a pair unless it is suspected that one bearing may have been faulty when installed, was installed incorrectly or the fault arose due to oil seal failure.
Never reinstall a bearing unless it is in a fully serviceable condition.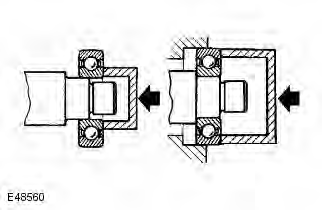 When installing a bearing to a shaft, only apply force to the inner ring of the bearing. When installing a bearing into a housing, only apply force to the outer ring of the bearing.

CAUTION: Service tools have been developed for installing the majority of bearings; these must always be used where specified.
In the case of grease lubricated bearings, fill the space between the bearing and outer seal with the recommended grade of grease before installing the seal.

CAUTION: When a waxed oil seal (installed dry) type of oil seal is to be installed, take great care that grease does not contaminate the running surface of the seal.
Always make suitable reference marks between the components of separable bearings e.g. taper roller bearings when disassembling to make sure correct location of components when assembling. Never install new rollers in an outer ring, always install a new bearing assembly.
Brake Pads and Linings
Always install the correct grade and specification of brake pads and linings. When replacing these items, always replace as complete axle sets.
Brake Hydraulics
Always observe the following recommendations when working on the braking system:

WARNING: Do not intermix brake fluid of different specifications.
Always use two spanners when loosening or tightening brake pipes or hose connections.
Make sure that hoses run in a natural curve and are not kinked or twisted.
Install brake pipes and hoses securely in their retaining clips and make sure that they cannot contact a potential chafing point.
Containers used for brake fluid must be kept absolutely clean.
Do not store brake fluid in unsealed containers, the fluid will absorb water which will lower the boiling point of the fluid.
Do not allow brake fluid to be contaminated with other fluids such as mineral oil and do not put brake fluid in a container which has previously been used for storing other fluids.
Do not reuse brake fluid which has been bled from the system.
Always use brake fluid or a suitable brake cleaning fluid to clean hydraulic components.
Unless stated otherwise, use only clean brake fluid to lubricate hydraulic seals and components.
Always install blanking plugs to hoses, pipes or components immediately after disconnection.
Check thread compatibility of original equipment with replacement components.
Observe absolute cleanliness when working with hydraulic components.
READ NEXT:
When removing or installing flexible hydraulic pipes and hoses, make sure that the following procedures are observed to make sure component serviceability: Prior to removal, clean area around hose
General The following guidelines are intended to make sure the safety of the operator whilst preventing damage to the electrical and electronic components of this vehicle. Equipment Prior to commenci
WARNING: Do not install rear facing child seats in the front passenger seat. The SRS contains components which are potentially hazardous to service personnel if not handled correctly. The following
SEE MORE:
Folding and raising the rear seats The split fold rear seat of 5 door models can be folded completely, or partially at 60/40 split, to accommodate loads and still retain seating for passengers. To fold part or all of the seat: 1. Fully lower the head restraints. 2. Press either seat backres
Component Location COMPONENT LOCATION Heater assembly Electric booster heater Overview OVERVIEW Due to the slower warm up times associated with the diesel engine, an electric booster heater may be fitted to increase heater performance. The electric booster heater does this by heating the air
© 2011-2023 Copyright www.rrevoque.org