Range Rover Evoque: Electronic Engine Controls - Component Location
Component Location
COMPONENT LOCATION - SHEET 1 OF 4
Fuel metering valve - HP Fuel pump
Camshaft Position (CMP) sensor (2 off)
Variable Camshaft Timing (VCT) solenoid (2 off)
Purge valve
Generator
Air Conditioning (A/C) compressor clutch
Crankshaft Position (CKP) sensor
Turbocharger wastegate control solenoid valve
Ignition coil (4 off)
COMPONENT LOCATION - SHEET 2 OF 4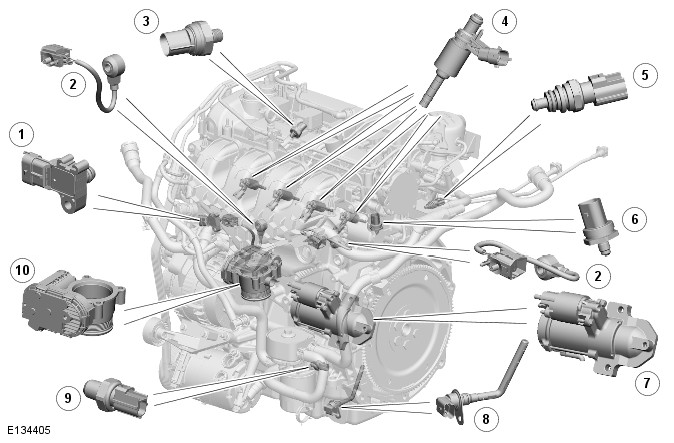 Manifold Absolute Pressure (MAP) sensor
Knock sensor (2 off)
Low Pressure (LP) fuel sensor
Fuel injector (4 off)
Engine Coolant Temperature (ECT) sensor 1
Fuel rail pressure sensor
Starter motor
Oil temperature sensor
Oil pressure sensor
Electric throttle
COMPONENT LOCATION - SHEET 3 OF 4
Cooling fan control module
Air Conditioning (A/C) pressure sensor
Pre-catalyst Heated Oxygen Sensor (HO2S)
Post catalyst HO2S
Transmission Control Module (TCM)
Engine Coolant Temperature (ECT) sensor 2 (NAS only)
Turbocharger boost pressure and temperature sensor
COMPONENT LOCATION - SHEET 4 OF 4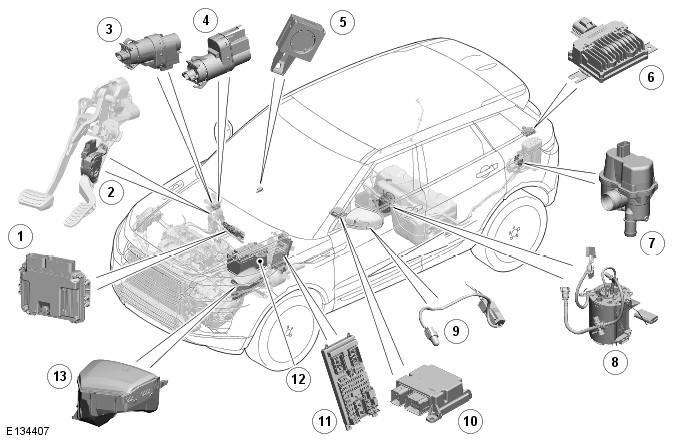 Engine Control module (ECM)
Accelerator Pedal Position (APP) sensor
Stop lamp switch
Stop lamp diagnostic switch
Immobilizer Antenna Unit (IAU)
Fuel Pump Driver Module (FPDM)
Diagnostic Monitoring Tank Leakage (DMTL) pump
Fuel pump module
Ambient temperature sensor
Restraints Control Module (RCM)
Central Junction Box (CJB)
Battery
Battery Junction Box (BJB)
Electronic Engine Controls - Overview
OVERVIEW
The 2.0L Gasoline Turbocharged Direct Injection (GTDi) engine is an in-line, double overhead camshaft, 4 cylinder engine, which is transverse mounted in the engine compartment. The engine management system is controlled by an ECM (engine control module) located in the engine compartment. The ECM uses inputs from various sensors to control actuators to achieve optimum conditions of all aspects of engine running, emissions and performance.
The engine uses a returnless, high pressure direct injection fuel system, with 7 hole injectors to supply the cylinders. An in tank, low pressure pump delivers fuel to an engine mounted high pressure pump, driven from the exhaust camshaft. Both pumps are controlled by the ECM.
The Borg-Warner K03 turbocharger is located on the exhaust manifold and features a pressure controlled, solenoid operated wastegate and water cooled bearing housing.
The double overhead camshafts use VCT (variable camshaft timing) which allows the timing of the intake and exhaust valves to be adjusted independently of each other. The system is operated by 2 VCT solenoids which are controlled by the ECM using information from 2 CMP (camshaft position) sensors.
READ NEXT:
Control Diagram NOTE: A = Hardwired; D = High Speed CAN Bus; O = Local Interconnect Network (LIN) Bus CONTROL DIAGRAM - SHEET 1 OF 2 Battery Starter motor fuse Battery Junction Box (BJB) Starte
DESCRIPTION Engine Control Module (ECM) The ECM is located at the rear of the engine compartment, between the bulkhead and the engine sound insulation. The ECM is located in a plastic molded carrier
SEE MORE:
Removal NOTES: The A-pillar outer panel is manufactured from mild steel. The fender mounting bracket is serviced on the new panel. The upper and lower butt joint must be MIG brazed due to the location of a boron reinforcement. A new anti tamper VIN indentification decal will be required when rep
Removal NOTES: Some variation in the illustrations may occur, but the essential information is always correct. Removal steps in this procedure may contain installation details. 1. WARNING: Make sure to support the vehicle with axle stands. Raise and support the vehicle. 2. WARNING: Make sure that
© 2011-2023 Copyright www.rrevoque.org