Range Rover Evoque: Engine Cooling - Component Location, System Operation and Component Description
Component Location
COMPONENT LOCATION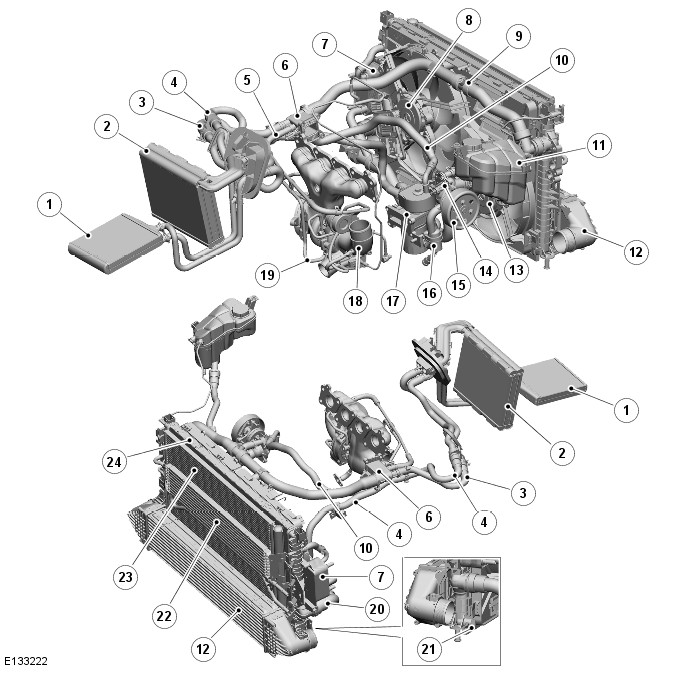 Heater core
Air Conditioning (A/C) Evaporator (ref only)
Heater inlet hose
Heater outlet hose/Oil cooler inlet hose
Turbocharger water outlet pipe
Water outlet
Transmission fluid cooler
Electric cooling fan - Left Hand (LH)
Radiator top hose
By-pass hose
Degas tank
Charge air cooler (reference only)
Electric cooling fan - Right Hand (RH)
Thermostat and housing
Water pump
Block heater (where fitted)
Engine oil cooler
Turbocharger
Turbocharger water inlet pipe
Radiator bottom hose
Engine coolant drain plug
Transmission oil cooler (hot climate markets only)
A/C condenser (reference only)
Engine cooling radiator
Overview
OVERVIEW
The pressurized cooling system allows coolant to circulate around the engine and the heater circuit while the thermostat main valve is closed. The primary function of the cooling system is to maintain the engine within an optimum temperature range under changing ambient and engine operating conditions. Secondary functions are to provide automatic transmission fluid cooling, turbocharger cooling and interior cabin heating.
When the engine is running the coolant is circulated around the engine cooling system by the coolant pump. From the coolant pump, coolant flows through the cylinder block and the cylinder heads. Some of the coolant leaving the engine is directed through the turbocharger before returning to the water outlet.
The main engine thermostat is located at the engine inlet up-stream of the water pump. During initial engine warm up the thermostat main valve is closed: preventing coolant flow through the radiator and transmission cooler. When the thermostat main valve is closed, coolant is circulated through the bypass circuit, cabin heater, engine oil cooler and degas tank to allow these systems to function during warm up.
Once the coolant temperature exceeds the thermostat start to open temperature of 82-90
READ NEXT:
Draining CAUTIONS: The engine cooling system must be maintained with the correct concentration and type of anti-freeze solution to prevent corrosion and frost damage. Failure to follow this instructi
Removal NOTES: Removal steps in this procedure may contain installation details. Some variation in the illustrations may occur, but the essential information is always correct. 1. WARNING: Make sure
Removal NOTES: Removal steps in this procedure may contain installation details. Some variation in the illustrations may occur, but the essential information is always correct. 1. WARNING: Make sure
SEE MORE:
Removal NOTES: Some variation in the illustrations may occur, but the essential information is always correct. Removal steps in this procedure may contain installation details. 1. WARNING: Make sure to support the vehicle with axle stands. Raise and support the vehicle. 2. Remove the front wheels
Towing Points CAUTION: The single towing points at the front and rear of the vehicle are designed for vehicle recovery purposes only and must NOT be used to tow a trailer or caravan. The front towing eye is accessible after releasing the 2 toggle fasteners securing the towing eye access panel
© 2011-2023 Copyright www.rrevoque.org