Range Rover Evoque: Epb manual use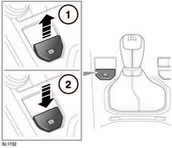 Epb manual use
1. To apply the parking brake, with the vehicle stationary, pull up the lever and release it.
The parking brake warning lamp will illuminate. It is important to confirm that the lamp is continuously illuminated (not flashing), as this indicates the brake has been correctly applied.
If the lever is operated when the vehicle speed is less than 3km/h (2mph) the vehicle will be brought to an abrupt stop.
The stop lamps will not be illuminated.
If a fault is detected the warning lamp will flash and a PARKBRAKE message will be displayed in the message centre.
Note: The red brake warning indicator will continue to be illuminated for at least ten seconds after the ignition has been turned off.
2. To release the parking brake, press the brake pedal and press down on the EPB lever.

Driving the vehicle with the parking brake applied, or repeated use of the parking brake to slow the vehicle, may cause serious damage to the brake system.
In an emergency, with the vehicle travelling more than 3km/h (2mph), pulling on the EPB lever and holding gives a gradual reduction in speed. The brake warning indicator will illuminate accompanied by a warning tone and a PARKBRAKE message appearing in the message centre. The stop lamps will illuminate.
READ NEXT:
EPB will be applied automatically if the ignition is switched off and the vehicle speed is below 3km/h (2mph). To prevent automatic operation, when the vehicle is stationary, press and hold the EP
If the system detects a fault with the EPB, the amber brake warning indicator will illuminate accompanied by a message on the message centre. If the system detects a fault while EPB is operating,
SEE MORE:
Removal NOTE: Removal steps in this procedure may contain installation details. All vehicles 1. Refer to: Specifications (414-01 Battery, Mounting and Cables, Specifications). 2. Refer to: Standard Workshop Practices (100-00 General Information, Description and Operation). 3. Refer to: Front Seat Co
The minimum octane rating for fuel used is 95 RON. The vehicle will run on lower ratings, but it may cause pronounced engine knock or pinking. If the pinking is severe it can cause damage to the engine, fuel and emission control systems. Note: Occasional, light, engine knock experienced while
© 2011-2023 Copyright www.rrevoque.org