Range Rover Evoque: How it works
Viewing angles for driver and front seat passenger are such that neither can view the full display that the other is viewing. However, there is an optimum viewing angle of 30 degrees where no cross over of images can be perceived. From this point, the closer to screen centre or screen side edges that the viewer moves to, the more likely cross over of images is. During normal use of dual view, image cross over is unlikely.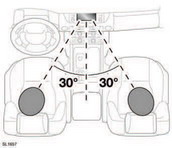 Rear seat passengers may be able to see both views when dual view is active.
READ NEXT:
When the ignition is switched on or the audio unit is turned on after being turned off, single view mode will be the default view. To select dual view, press the dual view hard key on the fascia s
Dual view control menu 1. Select to cancel dual view and revert to the menu for the current video source (TV, DVD). Note: The preview screen will be deactivated if the vehicle is moving. 2. Se
If you would like to change the TV programme while the vehicle is moving, there are two methods available; 1. Press the dual view hardkey to display the control menu. Select an alternative channe
SEE MORE:
If you are using a USB mass storage device or approved iPod, you can control playback using the touch screen controls. If you are using a Bluetooth® device, you can control playback using the touch screen, but some controls are unavailable. If you are using any portable media device via the
Make sure that all occupants are wearing their seat belts before driving the vehicle. WARNING Observe the following precautions to reduce the risk of injury in the event of sudden braking, sudden swerving or an accident. Failure to do so may cause death or serious injury. ■Wearing a seat belt E
© 2011-2023 Copyright www.rrevoque.org