Range Rover Evoque: Rear view camera

It remains the driver's responsibility to detect obstacles and estimate the vehicle's distance from them when reversing.
When Reverse (R) is selected the camera provides a wide-angle rear view colour image on the touch screen.
The camera display has priority over the parking aid display. To view the parking aid display instead or to cancel camera display at any time, briefly touch the display.
To adjust the camera settings, touch and hold anywhere on the touch screen to access the user options screen.
The display also incorporates graphic overlays, indicating vehicle direction, width and proximity to surrounding objects.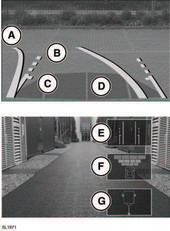 A. Solid line: The projected path based on current steering wheel position.
B. Dotted line: The safe working width of the vehicle (including exterior mirrors).
C. Tailgate access guideline: Do not reverse beyond this point if tailgate access is required.
D. Parking sensor activation: A coloured area appears, to indicate which rear sensor(s) has been activated.
E. User option. Touch to enable/disable A, B & C.
F. User option. Touch to enable/disable D.
G. User option. Touch to enable/disable Hitch Assist guidance lines.

Some overhanging objects or barriers which could cause damage to the vehicle, may not be detected by the camera.
READ NEXT:
Park assist is a driving aid only. It remains the driver's responsibility to drive with due care and attention during parking manoeuvres. Park assist may not detect moving objects such as chil
If a system fault is detected, a continuous tone will sound and a message will be displayed in the message centre. Contact your Dealer/ Authorised Repairer as soon as possible.
SEE MORE:
Changing a road wheel 1. Temporary spare wheel locking ring. 2. Temporary spare wheel retaining bolt. 3. Tool kit retaining bolt. 4. Jack. 5. Wheel brace. After use, the tool kit should be returned to the under floor storage area and correctly stowed. The spare wheel is heavy and if h
Fuel Fired Booster Heater Module (AHCM) CAUTION: Diagnosis by substitution from a donor vehicle is NOT acceptable. Substitution of control modules does not guarantee confirmation of a fault, and may also cause additional faults in the vehicle being tested and/or the donor vehicle. NOT
© 2011-2023 Copyright www.rrevoque.org