Range Rover Evoque: Supervisor screen controls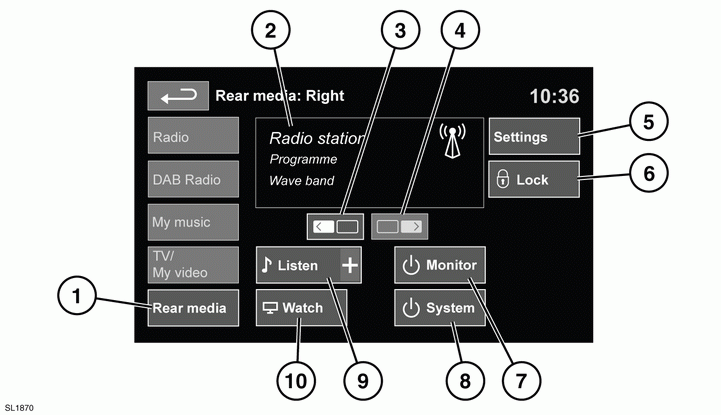 Supervisor screen controls
See 104, TOUCH SCREEN OVERVIEW.
1. Select rear media.
2. Current rear media display.
3. Left screen select.
4. Right screen select.
5. Settings screen.
6. Remote control lock.
7. Turns off the selected screen.
8. Turns off the selected system.
9. Audio source select.
10. Video source select.
READ NEXT:
The RSE system consists of two screens. Separate programmes can be viewed or heard by rear seat occupants. Supervisory control is made from the front seats. Audio and video programmes for each or
The rear media settings screen allows Limousine Mode and TV Parental Control to be turned on or off. When Limousine Mode is selected, the rear passengers can control the total cabin audio system
Touch screen remote control 1. Press here to undock remote control. Do not press the touch screen to undock the remote control. 2. Touch screen. 3. Home screen. 4. Video source select. 5.
SEE MORE:
Occupant safety using seat belts 1. Putting on a seat belt: Draw the belt out smoothly, ensure that the belt height, the seat and your position on the seat, are correct. WARNING: Seatbelts are designed to bear upon the bony structure of the body, and should be worn low across the front
Safety may be reduced by inappropriately disabling DSC. In the majority of driving situations, and particularly on-road, it is recommended that you do not disable DSC. In some driving conditions it may be appropriate to disable DSC to improve traction. These conditions include: - Rocking t
© 2011-2023 Copyright www.rrevoque.org