Range Rover Evoque: Telephone system controls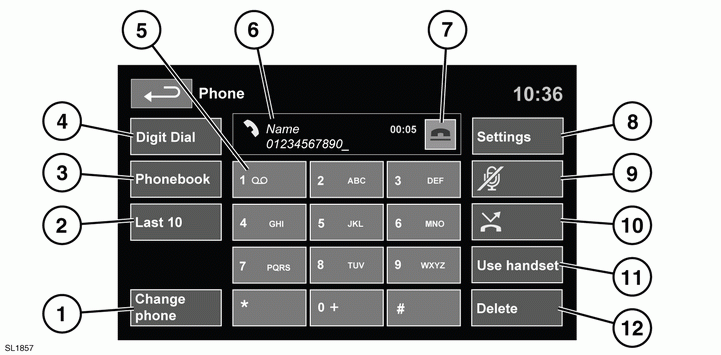 Telephone system controls
1. Change phone. Touch to search new or change to another paired phone.
2. Last 10. Select to access the last 10 dialled, received and missed calls.
3. Phonebook. Select to access the downloaded phonebook.
4. Digit Dial. Select to access Digit Dial mode.
5. Touch and hold soft key 1 to retrieve your Voice mail.
6. Status display. Displays the name and/or number dialled and call duration.
7. Call Connect/Disconnect icons. Touch to send/accept or end/reject a call.
8. Settings. Select to access; Voice mail, Answer options and Phone options.
9. Mute microphone. Select to initiate Privacy mode. While selected, the caller will not hear you talking.
10. Touch to activate/deactivate Auto reject.
When active, any incoming calls will be rejected or diverted to voice mail (depending on mobile phone settings).
11. Use handset. Select to switch the call to your mobile phone.
12. Delete. Touch and release to delete the last entered digit. Touch and hold to delete the whole entered number.
READ NEXT:
Note: The process of pairing and connecting your phone with the vehicle using the mobile phone, will vary depending on the type of mobile phone used. 1. Switch the ignition on and ensure that the
1. Switch on your mobile phone's Bluetooth® connection. Make sure that your mobile phone is in Bluetooth® discoverable mode, sometimes referred to as find me mode (see your phone's operating
Up to 10 mobile phones can be paired with the vehicle in the same way. However, only one can be connected and ready for use as a phone at any one time. To connect a different paired phone, follow
SEE MORE:
Removal Special Tool(s) 205-857 Remover, Halfshaft 303-021 Engine support bracket 303-662 Support Beam Arm and Hook Assembly, Engine General Equipment Transmission jack NOTE: Some variation in the illustrations may occur, but the essential information is always correct. 1. Disconnect the battery
Please refer to the Ownership section of the Land Rover website at www.landrover.com, for a list of compatible phones. Note: The Bluetooth® equipped phones listed on Landrover.com, have been tested for compatibility with Land Rover vehicles. Performance will vary, based on the phone's soft
© 2011-2023 Copyright www.rrevoque.org