Range Rover Evoque: Battery - Diagnosis and Testing
Principles of Operation
For a detailed description of the battery system and operation, refer to the relevant Description and Operation section of the workshop manual. REFER to: (414-01 Battery, Mounting and Cables)
Inspection and Verification
CAUTION: Diagnosis by substitution from a donor vehicle is NOT acceptable. Substitution of control modules does not guarantee confirmation of a fault and may also cause additional faults in the vehicle being checked and/or the donor vehicle.
1. Verify the customer concern.
2. Visually inspect for obvious signs of mechanical or electrical damage.
Visual Inspection

3. If an obvious cause for an observed or reported concern is found, correct the cause (if possible) before proceeding to the next step.
4. If the cause is not visually evident check for Diagnostic Trouble Codes (DTCs) and refer to the DTC Index.
DTC Index
NOTES:
Generic scan tools may not read the codes listed, or may read only five digit codes. Match the five digits from the scan tool to the first five digits of the seven digit code listed to identify the fault (the last two digits give additional information read by the manufacturer-approved diagnostic system).
When performing electrical voltage or resistance tests, always use a digital multimeter (DMM) accurate to three decimal places, and with an up-to-date calibration certificate. When testing resistance, always take the resistance of the DMM leads into account.
Check and rectify basic faults before beginning diagnostic routines involving pinpoint tests.
If DTCs are recorded and, after performing the pinpoint tests, a fault is not present, an intermittent concern may be the cause. Always check for loose connections and corroded terminals.
For a list of Diagnostic Trouble Codes (DTCs) that could be logged on this vehicle, please refer to Section 100-00.
Midtronics EXP-1080 User Guide
Carry out the following: -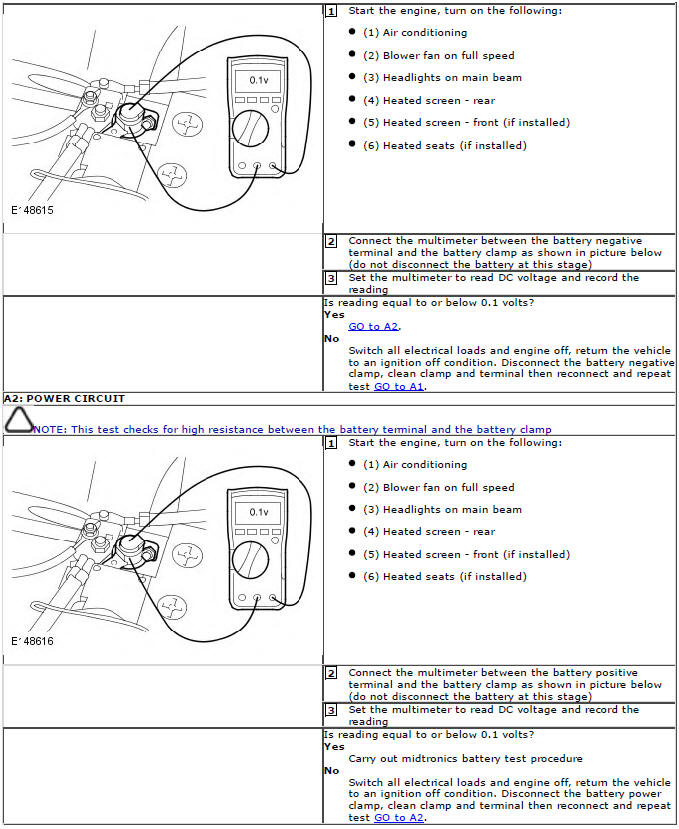 LCD screen with main menu
Control panel (key board and power button)
Positive and negative fly leads
Fly leads connection
Temperature sensor
Infra-red sensor (data transfer for printer)
Amp hour
Battery rating (CCA)
Rating units
Battery type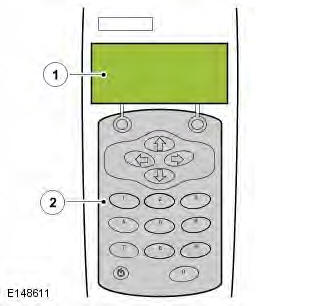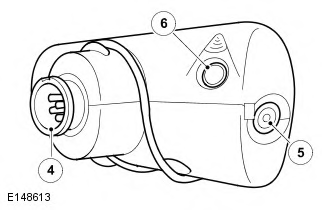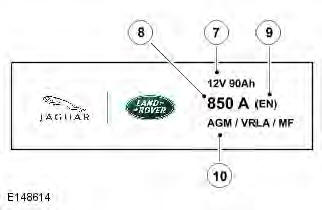 The following steps must be carried out to ensure correct operation of the EXP-1080 during the battery test procedure
NOTE: The Midtronics EXP-1080 is suitable for testing flooded and absorbed glass mat (AGM) type batteries
Typical Values

Midtronics Battery Test Procedure
This midtronics battery test procedure will confirm the serviceability of the battery
1. Connect the fly-lead to the midtronics EXP-1080
2. Connect the fly-leads to the battery terminals
Black lead to negative terminal
Red lead to positive terminal
Confirm the connections are secure
3. The EXP-1080 will power on automatically when connected to a battery, screen below is displayed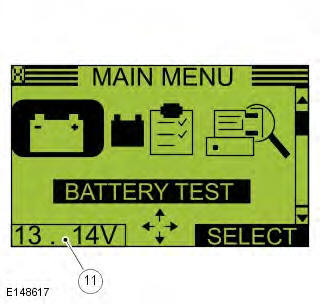 NOTE: MAIN MENU SCREEN
4. Main Menu. Select Battery test and press SELECT
NOTE: BATTERY LOCATION
5. Battery Location. Select either, Out of vehicle or In Vehicle as appropriate
Select Next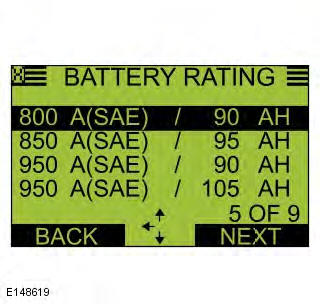 NOTE: BATTERY RATING
6. BATTERY RATING. Select the correct battery rating from the pre-installed list, (Goto step 10). Or,
To manually enter the correct battery type, specification and CCA rate. Scroll using the arrow keys on the midtronics panel and select Other from the menu
Select Next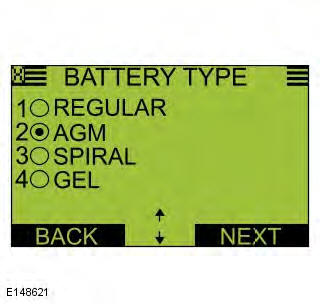 NOTE: BATTERY TYPE
7. Battery Type. Select the correct battery type (Regular or AGM)
NOTE: All AGM batteries are marked (Refer to battery label)
Select Next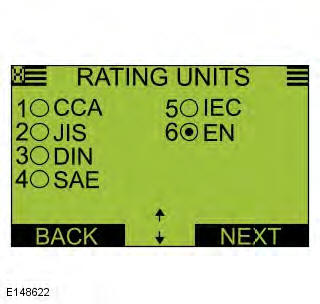 NOTE: RATING UNITS
8. Rating Units. Select the correct rating units. Refer to the battery label for correct specification. Options EN, DIN, SAE
Select Next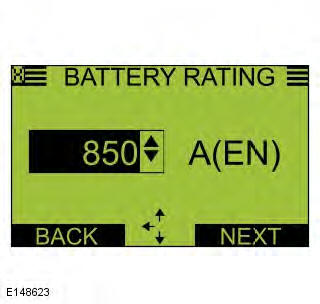 NOTE: BATTERY RATING
9. BATTERY RATING. Scroll using the arrow keys on the midtronics panel, select the correct CCA rating (For CCA refer to battery label)
Select Next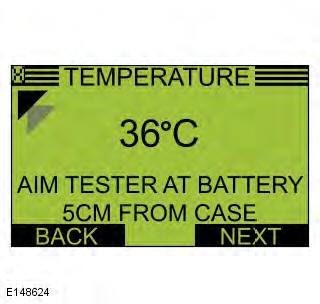 NOTES:
TEMPERATURE
Ensure that the temperature sensor does not touch any part of the battery or vehicle, this will cause damage not be covered under the midtronics warranty and will require the unit to be returned to a service center
10. Temperature. Aim the temperature sensor towards the battery casing (Maintain distance of 5cm)
Select Next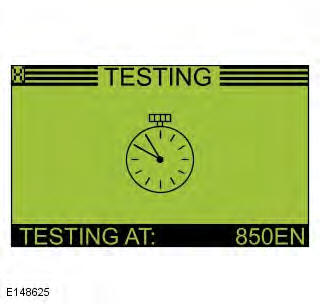 NOTE: TESTING
11. Testing. The screen displays clock hand's rotating, the EXP-1080 will automatically advance when test has completed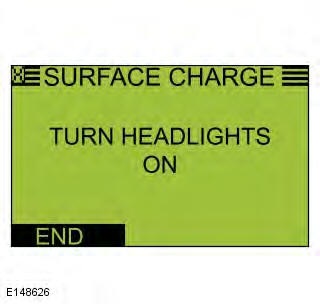 NOTES:
SURFACE CHARGE
If there is no surface charge this step will not show. Go to next step
11a. Surface Charge. Ensure the ignition state is on. Switch on the headlights (high beam) until EXP-1080 shows Turn off headlights then return ignition state to off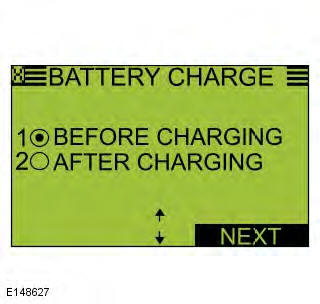 NOTES:
BATTERY CHARGE
If the state of charge is sufficient this step will not show. Go to next step
11b. Battery Charge. Select Before Charging if battery has not been on a recommended mains charger for a minimum of 6 hours
Select After Charging if battery has been on a recommended mains charger for a minimum of 6 hours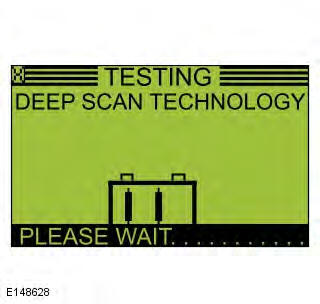 NOTES:
DEEP SCAN TECHNOLOGY
This test is automated and will show if required. Go to next step
12. Testing. The EXP-1080 will carry out the deep scan test, then automatically advance when test has completed
Battery test result
CCA (Measured capacity rating)
Voltage
CCA (Manually entered)
Temperature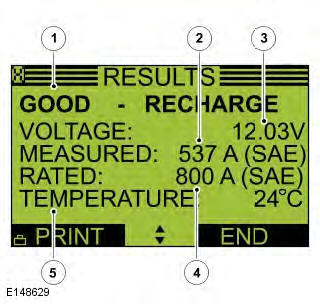 NOTE: RESULTS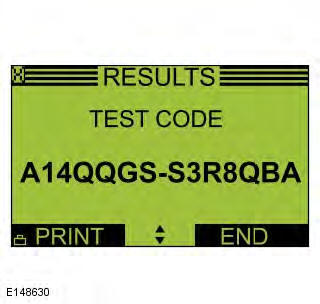 NOTES:
TEST CODE
Battery test code, must be given if a battery, starter motor or generator is exchanged under warranty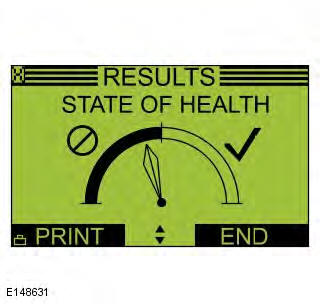 NOTES:
STATE OF HEALTH
General health of the battery and its ability to deliver its specified performance compared with a new battery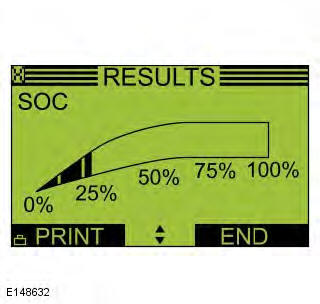 NOTES:
SOC (State Of Charge)
BATTERY STATE OF CHARGE
Results. From the result display use the arrow keys on the control panel to view the test code
The test code must be quoted with every battery claim under warranty
Flooded Battery Care Point
If the vehicle is equipped with a flooded battery, ensure the replacement battery is a flooded battery of the same specification (cold cranking amperage (CCA) / amp hour rating (Ah) ) as the original battery Under no circumstances should you fit a flooded battery to a vehicle that originally had an AGM battery, unless formally instructed by Jaguar/Land Rover
AGM Battery Care Point
If the vehicle is equipped with an absorbed glass mat (AGM) battery, ensure the replacement battery is a AGM battery of the same specification (cold cranking amperage (CCA) / amp hour rating (Ah) ) as the original battery, unless formally instructed by Jaguar/Land Rover
READ NEXT:
Component Location COMPONENT LOCATION - SHEET 1 OF 2 - DW12c CJB (central junction box) ECM (engine control module) RJB (rear junction box) Battery BJB (battery junction box) Starter motor Ge
Removal NOTES: Removal steps in this procedure may contain installation details. Some variation in the illustrations may occur, but the essential information is always correct. 1. 2. 3. Torque: 25
Removal NOTES: Removal steps in this procedure may contain installation details. Some variation in the illustrations may occur, but the essential information is always correct. 1. Refer to: Battery
SEE MORE:
A number of different driving modes are available. Some can be selected by the driver and some are automatically initiated by the TCM to adapt to different driving conditions. Normal Sports Manual 'CommandShift' Cooling Hill Descent Control (HDC) Cruise Limp home Coast Fast off recognitio
Opening and closing the bonnet Opening 1. Pull the bonnet release lever, located in the left-hand front footwell. 2. Lift the bonnet safety catch lever, located below the centre point of the bonnet, then raise the bonnet. Closing Do not drive with the bonnet retained by the safety catc
© 2011-2023 Copyright www.rrevoque.org