Range Rover Evoque: Cylinder Head
Removal
NOTES:
Some illustrations may show the engine removed for clarity.
Some variation in the illustrations may occur, but the essential information is always correct.
1. Refer to: Battery Tray (414-01 Battery, Mounting and Cables, Removal and Installation).
2. Refer to: Cooling System Draining, Filling and Bleeding (303-03B Engine Cooling - GTDi 2.0L Petrol, General Procedures).
3. Refer to: Camshafts (303-01B Engine - GTDi 2.0L Petrol, Removal and Installation).
4. Refer to: Intake Manifold (303-01B Engine - GTDi 2.0L Petrol, Removal and Installation).
5.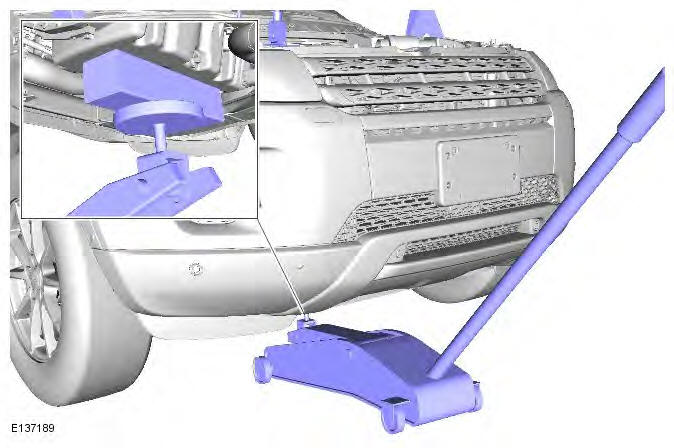 6. Remove the special tool.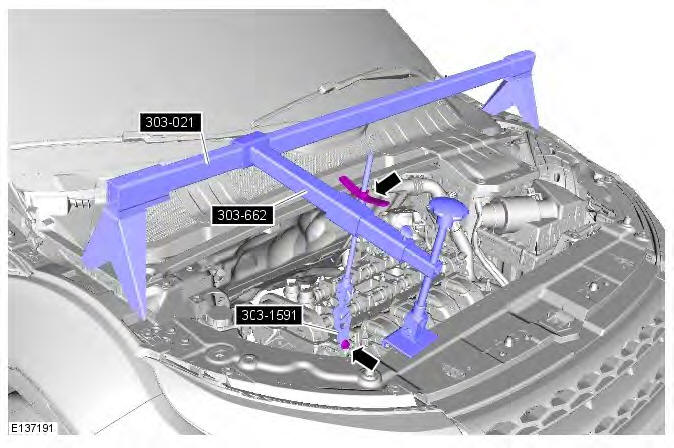 7.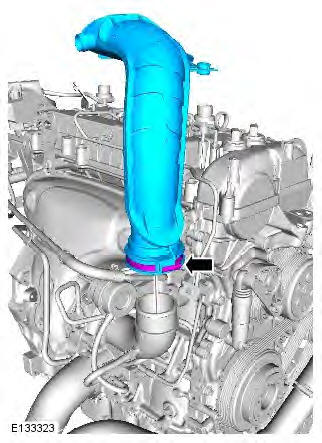 8.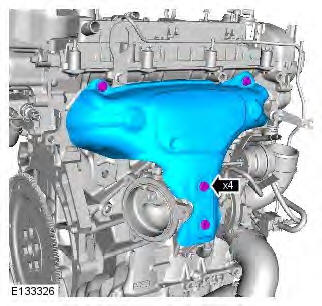 9.
10.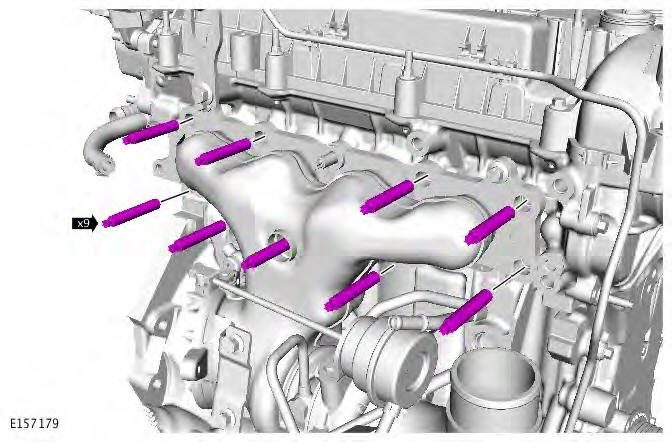 11. CAUTION: Using suitable tie straps, make sure the turbocharger assembly is secure.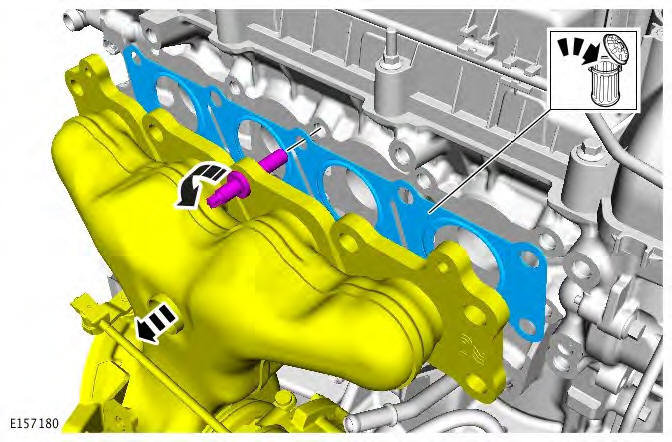 12. CAUTIONS:
Make sure that all openings are sealed. Use new blanking caps.
Be prepared to collect escaping coolant.
Carefully remove and discard the oil seal.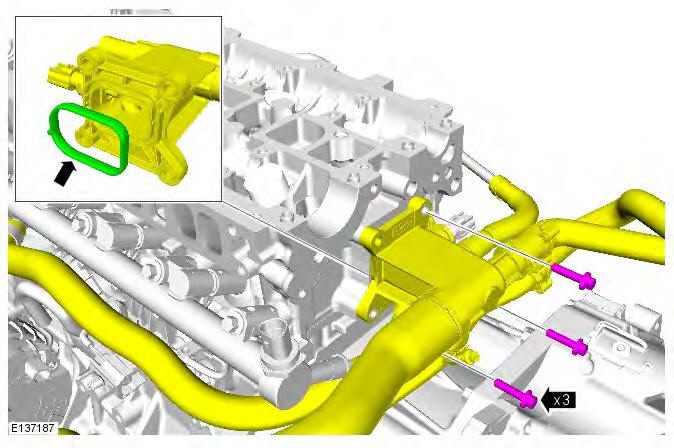 13.
14.
15.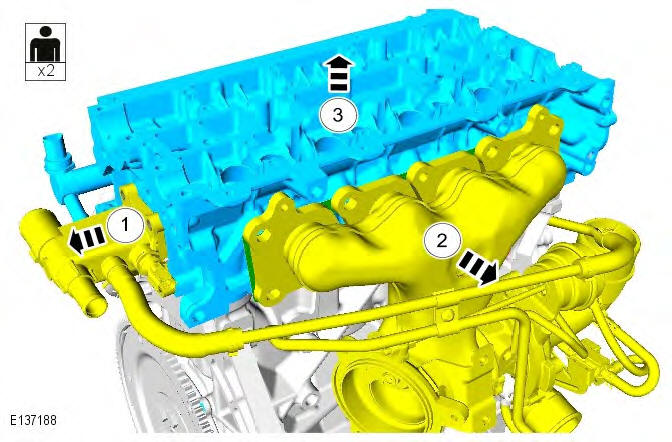 16.
Remove and discard the cylinder head gasket.
Installation
1.
Clean the components mating faces.
2. CAUTION: Apply sealant WSE-M4G323-A6 in a 5-7mm diameter on both cylinder head gasket notches as shown. The cylinder head and engine front cover must be installed and tightened within 30 minutes of sealant application.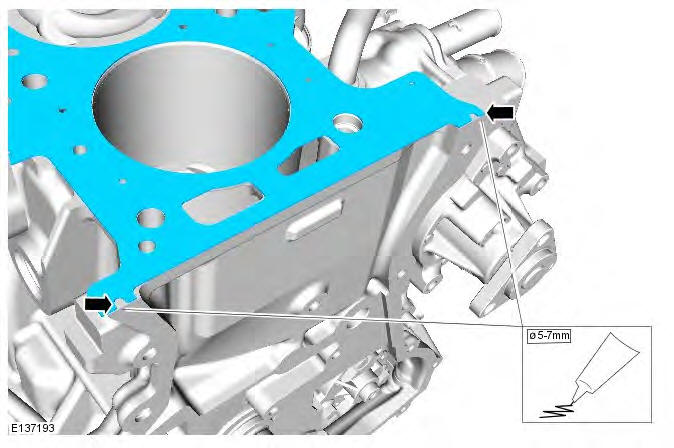 3.
Clean the component mating faces.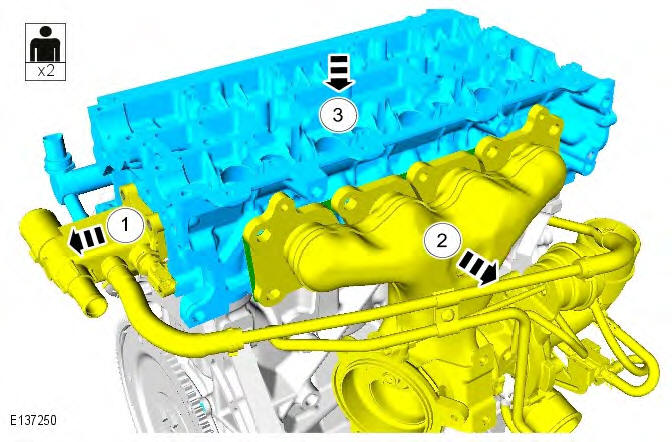 4. CAUTION: Cylinder head bolts may be reused a maximum of two times only.
NOTE: Tighten the bolts in the indicated sequence.
Torque:
Stage 1: 7 Nm
Stage 2: 15 Nm
Stage 3: 55 Nm
Stage 4: 90
READ NEXT:
Engine Mount LH Removal NOTES: Removal steps in this procedure may contain installation details. Some variation in the illustrations may occur, but the essential information is always correct. 1. Di
Removal NOTES: Removal steps in this procedure may contain installation details. Some illustrations may show the engine removed for clarity. 1. WARNING: Make sure to support the vehicle with axle sta
Removal NOTE: Removal steps in this procedure may contain installation details. 1. WARNING: Make sure to support the vehicle with axle stands. Raise and support the vehicle. 2. Disconnect the battery
SEE MORE:
Land rover tyre repair kit 1. Maximum speed label. 80 km/h (50 mph). 2. Tyre inflation hose. 3. Inflation hose protective cap. 4. Inflation hose connector. 5. Compressor power cable. 6. Power cable connector. 7. Sealant bottle receiver cap (orange). 8. Sealant bottle receiver. 9. Sealant
Take notice of the following information about storage precautions, cargo capacity and load: Capacity and distribution Cargo capacity depends on the total weight of the occupants. (Cargo capacity) = (Total load capacity) - (Total weight of occupants) Steps for Determining Correct Load Limit - (1) Lo
© 2011-2023 Copyright www.rrevoque.org