Range Rover Evoque: Engine oil check

Check the engine oil weekly. If any significant or sudden drop in oil level is noted, seek qualified assistance.
Never allow the oil level to fall below the lower mark or notch on the dipstick.
If the message ENGINE OIL PRESSURE LOW is displayed, stop the engine as soon as it is safe to do so and seek qualified assistance. Do not start the engine until the cause has been rectified.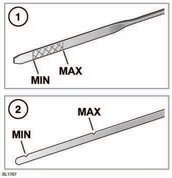 1. 2.0L petrol engine.
2. 2.2L diesel engine dipstick
READ NEXT:
Prior to checking the oil level ensure that: - The vehicle is on level ground. - The engine oil is cold. Note: If it is necessary to check the oil level when the engine is hot, switch off the engi
Your vehicle warranty may be invalidated if damage is caused by using oil that does not meet the required specification. Failure to use an oil that meets the required specification could cause
It is important that the correct oil specification is used. Vehicles fitted with a diesel particulate filter (DPF) must use the specified oils otherwise significant engine damage will occur. Speci
SEE MORE:
Special Tool(s) 100-012 Slide Hammer 307-594 Installer, Seal 308-005 Remover, Axle oil seal Removal NOTE: Some variation in the illustrations may occur, but the essential information is always correct. 1. WARNING: Make sure to support the vehicle with axle stands. Raise and support the vehicle. 2.
Engine Ignition Principles of Operation For a detailed description of the ignition system, refer to the relevant Description and Operation section in the workshop manual. REFER to: (303-07D) Inspection and Verification CAUTION: Diagnosis by substitution from a donor vehicle is NOT acceptable. Subs
© 2011-2021 Copyright www.rrevoque.org