Range Rover Evoque: Engine oil check

Check the engine oil weekly. If any significant or sudden drop in oil level is noted, seek qualified assistance.
Never allow the oil level to fall below the lower mark or notch on the dipstick.
If the message ENGINE OIL PRESSURE LOW is displayed, stop the engine as soon as it is safe to do so and seek qualified assistance. Do not start the engine until the cause has been rectified.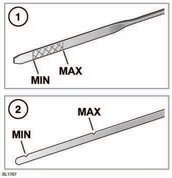 1. 2.0L petrol engine.
2. 2.2L diesel engine dipstick
READ NEXT:
Prior to checking the oil level ensure that: - The vehicle is on level ground. - The engine oil is cold. Note: If it is necessary to check the oil level when the engine is hot, switch off the engi
Your vehicle warranty may be invalidated if damage is caused by using oil that does not meet the required specification. Failure to use an oil that meets the required specification could cause
It is important that the correct oil specification is used. Vehicles fitted with a diesel particulate filter (DPF) must use the specified oils otherwise significant engine damage will occur. Speci
SEE MORE:
The navigation map database is divided into countries, or geographically defined areas within countries, called search areas. When setting a route, the destination (or waypoint) entered must be in the currently selected search area. Before attempting to set a destination or waypoint, set the
Removal NOTES: The fender apron panel front reinforcement is manufactured from RP220 and mild steel. The panel is serviced less its weld studs 1. In this procedure, to make sure the vehicle is correctly aligned, it must be placed on an approved alignment jig. 2. The front side member and fender a
© 2011-2022 Copyright www.rrevoque.org