Range Rover Evoque: Fuel Fired Booster Heater FWD
Component Location
COMPONENT LOCATION - VEHICLES WITHOUT FFBH REMOTE CONTROL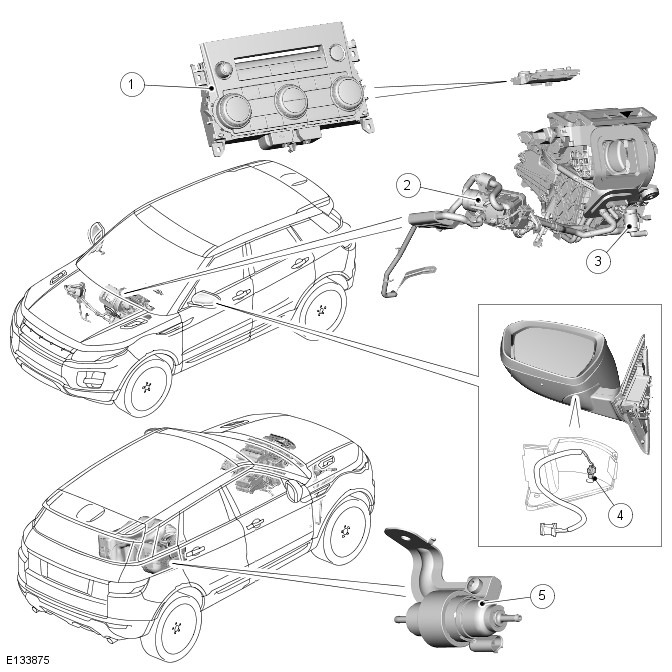 ATC (automatic temperature control) module
Fuel Fired Booster Heater (FFBH)
Auxiliary coolant pump
Ambient air temperature sensor
Auxiliary fuel pump
COMPONENT LOCATION - VEHICLES WITH FFBH REMOTE CONTROL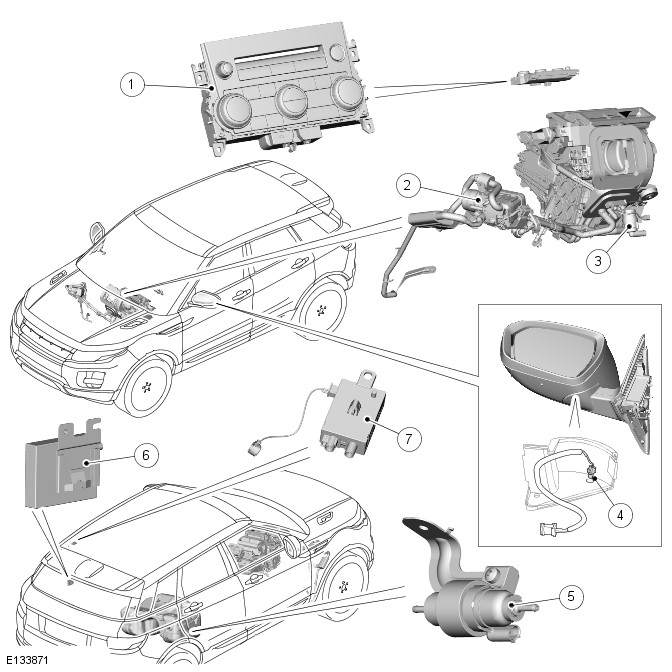 ATC module
Fuel Fired Booster Heater (FFBH)
Auxiliary coolant pump
Ambient air temperature sensor
Auxiliary fuel pump
FFBH Receiver
FFBH antenna matching unit
Overview
OVERVIEW
NOTE: There is no auxiliary coolant pump fitted if there is no FFBH fitted (from VIN 631090).
The Fuel Fired Booster Heater (FFBH) is rated at 5 kW and compensates for the relatively low coolant temperatures inherent in the diesel engine. The unit is located behind the RH (right-hand) front fender splash shield and heats engine coolant downstream of the heater core.
Operation of the FFBH is controlled by the ATC (automatic temperature control) module via the medium speed CAN (controller area network) bus. The operation of the FFBH is influenced by:
Ambient air temperature
Engine coolant temperature.
The FFBH will operate if the ambient air temperature is lower than 5
READ NEXT:
Instrument Cluster - Component Location COMPONENT LOCATION Instrument Cluster - Overview OVERVIEW The instrument cluster comprises two analogue gages for the speedometer and the tachometer and a 5 i
Information and Message Center - Component Location COMPONENT LOCATION Information and Message Center - Overview OVERVIEW The message center is located in the instrument cluster, in a central positio
SEE MORE:
Remove the spare wheel prior to jacking the vehicle, to avoid destabilising the vehicle when raised. Do not use power tools to loosen the spare wheel. Doing so may damage the mechanism. 1. To access the temporary spare wheel, fold forward the rear edge of the cover then remove it. 2.
The front seats tilt and power slide forwards for entry to and exit from the rear seats. Operation is controlled by a lever and switch. 1. Lift the locking lever and pivot the seatback forwards. 2. Press the front of the switch to power the seat forwards. 3. To return the seat, pivot the se
© 2011-2021 Copyright www.rrevoque.org