Range Rover Evoque: Transfer Case Rear Seal
Special Tool(s)

100-012
Slide Hammer

205-871
Installer, Transfer Case Rear Seal

308-615
Remover, Seals

308-617
Depth Drill, Seal Remover
Removal
NOTES:
Removal steps in this procedure may contain installation details.
Some variation in the illustrations may occur, but the essential information is always correct.
All vehicles
1. WARNING: Make sure to support the vehicle with axle stands. Raise and support the vehicle.
Vehicles with diesel particulate filter (DPF)
2.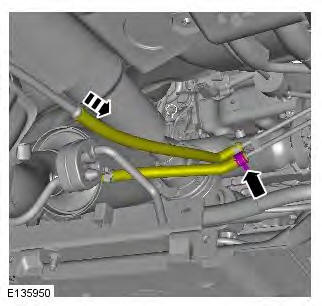 All vehicles
3. CAUTIONS: Mark the position of the driveshaft flange in relation to the drive pinion flange.
To avoid damage to the joint or gaiter, do not allow the driveshaft to hang.
Make sure that the driveshaft is supported with suitable retaining straps.
Torque: 40 Nm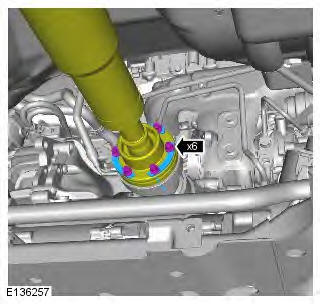 4. CAUTION: Make sure that a new bolt is installed.
NOTE: Position cloth to collect fluid spillage.
Torque: 48 Nm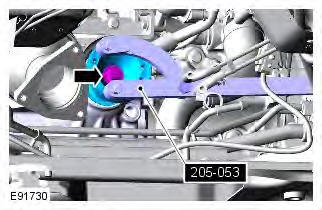 5.
6. CAUTIONS: Make sure that the area around the component is clean and free of foreign material.
Take extra care not to damage the mating faces.
Special Tool(s): 308-615
Special Tool(s): 100-012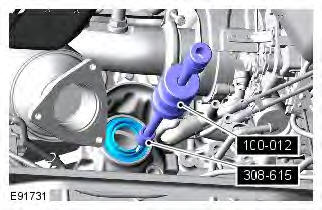 Installation
1.
2. To install, reverse the removal procedure.
3. Check and top-up the transfer case fluid level.
Refer to: Transfer Case Fluid Level Check (308-07B Transfer Case - Vehicles With: AWF21 6-Speed Automatic Transmission/M66 6-Speed Manual Transmission AWD, General Procedures).
READ NEXT:
Special Tool(s) 100-012 Slide Hammer 205-873/1 Remover/Installer, Transfer Case Seal 205-873/2 Protector, Transfer Case Seal 205-873/3 Punch/Screws, Transfer Case Seal Removal NOTES: Removal steps in
Special Tool(s) 100-012 Slide Hammer 205-873/1 Remover/Installer, Transfer Case Seal 205-873/2 Protector, Transfer Case Seal 205-873/3 Punch/Screws, Transfer Case Seal Removal NOTES: Removal steps in
Special Tool(s) 100-012 Slide Hammer 205-872 Installer, Transfer Case Seal 308-615 Remover, Seals 308-617 Depth Drill, Seal Remover Removal NOTES: Removal steps in this procedure may contain installat
SEE MORE:
Control Diagram NOTE: A = Hardwired; F = RF transmission; N = Medium speed CAN (controller area network) bus; O = LIN (local interconnect network) bus. Instrument cluster CJB (central junction box) Radio frequency (RF) receiver RFA (remote function actuator) / KVM (keyless vehicle module) Re
■ Top tether anchorages Top tether anchorages are provided for each rear seat. Use top tether anchorages when fixing the top strap. Top tether anchorages Top strap ■ Fixing the top strap to the top tether anchorages Install the child restraint system in accordance to the operation manual e
© 2011-2023 Copyright www.rrevoque.org