Range Rover Evoque: Communications Network - Overview, System Operation and Component Description
Overview
A number of different types of communication networks are incorporated into the vehicle wiring harnesses for the transmission of commands and information between control modules. The configuration installed on a particular vehicle depends on the model and equipment level.
The communication networks available on the vehicle are:
LIN (local interconnect network) bus
Medium speed CAN (controller area network) bus
High speed CAN bus
Media Orientated System Transport (MOST) ring

System Operation and Component Description
Control Diagram
NOTE: O = LIN (local interconnect network) bus; N = Medium speed CAN (controller area network) bus; D = High speed CAN bus; P = MOST
CONTROL DIAGRAM - LIN BUS (SHEET 1 OF 2)
Immobilizer Antenna Unit (IAU)
Driver door module
Driver door switch pack
Rear door module (driver side)
Voltage quality module
Roof blind motor
Rear door module (passenger side)
Passenger door module
Rain sensor
Battery backed sounder (if fitted)
Front overhead console
Clockspring
Battery Monitoring System (BMS) module
CJB (central junction box)
CONTROL DIAGRAM - LIN BUS (SHEET 2 OF 2)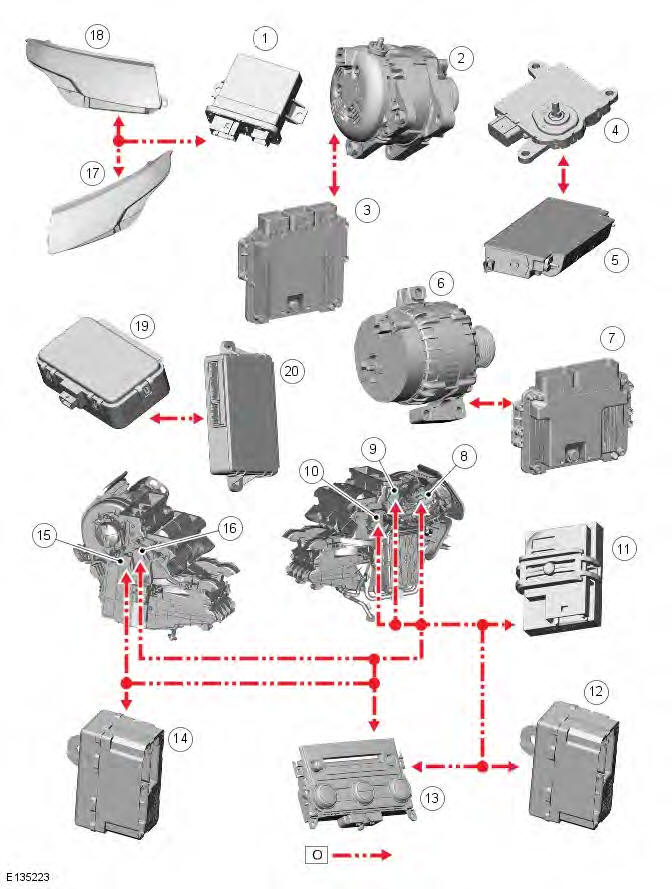 Headlamp control module
Generator (DW12c)
ECM (engine control module) (DW12c)
TCM (transmission control module)
Auxiliary battery module
Generator (GTDi)
ECM (GTDi)
Fresh/recirculated mode motor
Screen air distribution motor
RH (right-hand) air temperature mode motor
Cabin humidity sensor
Passenger heated seat module
Integrated Control Panel (ICP)
Driver heated seat module
LH (left-hand) air temperature mode motor
Face/feet mode air distribution motor
LH headlamp
RH headlamp
Radio Frequency (RF) receiver
Keyless Vehicle Module (KVM)
CONTROL DIAGRAM - MEDIUM SPEED CAN BUS
CJB
Integrated Control Panel (ICP)
Instrument cluster
Navigation system module (Asia)
Driver door module
Fuel Fired Booster Heater (FFBH)
Passenger door module
Passenger seat memory module
Rear view camera
Keyless Vehicle Module (KVM)
Liftgate module
RH blind spot monitoring module
LH blind spot monitoring module
Interior mirror
Driver seat memory module
Proximity camera control module
Diagnostic socket
Touch Screen Display (TSD) - single view
Touch Screen Display (TSD) - dual view
Multi-function display
CONTROL DIAGRAM - HIGH SPEED CAN BUS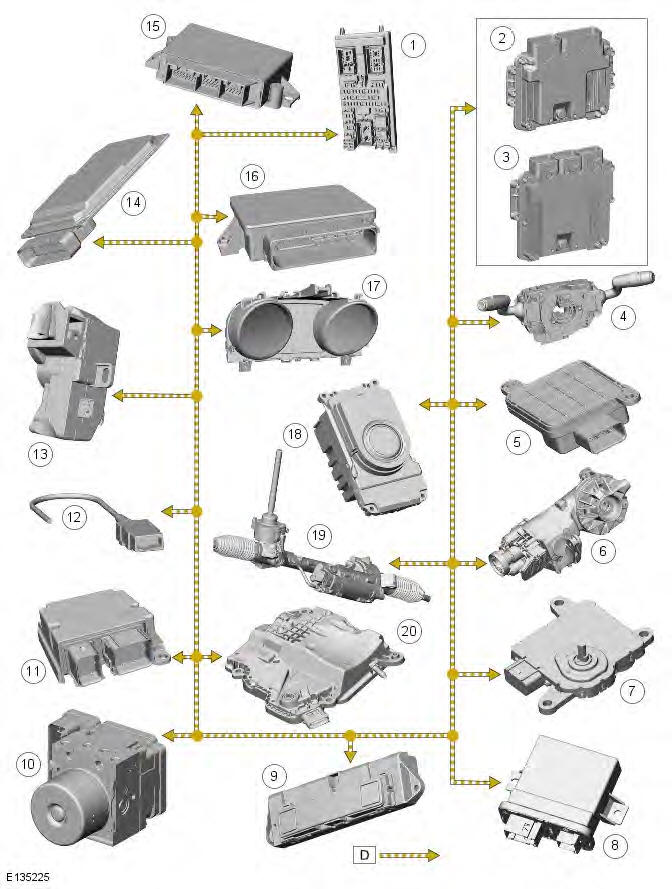 CJB
ECM (GTDi)
ECM (DW12c)
Clockspring
Occupancy sensor module
Differential electronic module
TCM
Headlamp control module
Terrain optimization switch
ABS (anti-lock brake system) module
RCM (restraints control module)
Diagnostic socket
Electric steering column lock
Continuously variable damping module
Park distance control module
Electric park brake module
Instrument cluster
Electronic Transmission Selector (ETS)
Electrical power assisted steering rack
Gear shift module
CONTROL DIAGRAM - MOST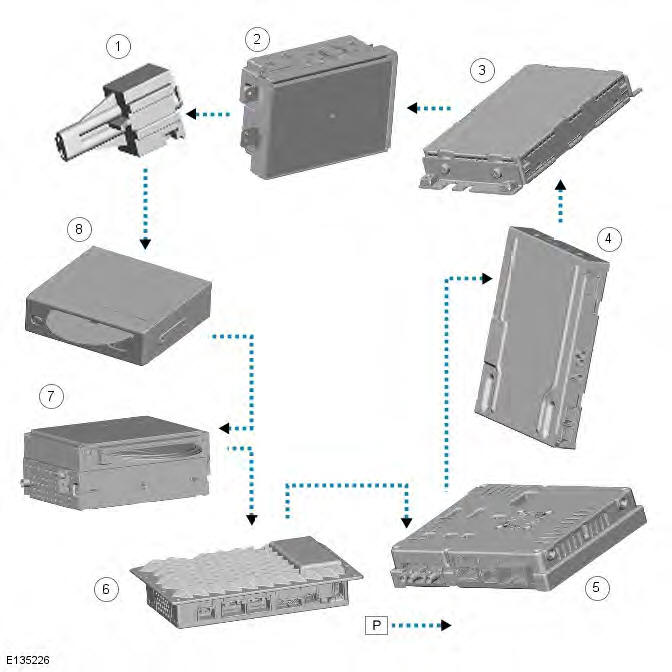 Diagnostic socket
Touch Screen Display (TSD)
Satellite Digital Audio Radio Service (SDARS) module (NAS Only) or Digital Audio Broadcasting (DAB) module
Rear Seat Entertainment (RSE) module
TV Module
Audio power amplifier
Integrated Audio Module (IAM)
Navigation control module (Japan only)
System Operation
Principles of operation
Refer to: Communications Network (418-00 Module Communications Network, Description and Operation). and to Component Description below.
Component Description
LOCAL INTERCONNECT NETWORK BUS
The LIN bus is a low speed broadcast network that employs master and slave components. The master component transmits a message along a single wire to the slave components identifying which slave is to respond. The message has a header (slave identifier) and an empty data field. The identified slave component fills the data field with the relevant information and returns a message to the master component along the same wire.
CONTROLLER AREA NETWORK BUS
The CAN bus is a high speed broadcast network where control modules automatically transmit information every few microseconds. Information is broadcast down a pair of twisted wires, known as 'CAN high' and 'CAN low'. Information is transmitted on the CAN bus as a voltage difference between the 2 wires.
Two CAN bus networks are used on the vehicle; medium speed and high speed, with the CJB acting as a gateway between the 2 networks. The table below shows the wire colors used on both networks.
MEDIA ORIENTATED SYSTEM TRANSPORT (MOST) RING
The Media Orientated System Transport (MOST) ring uses fiber optic cables to transport data and audio signals around the information and entertainment system. The fiber optic cables are arranged in a ring, with each unit on the ring having a 'MOST in' and 'MOST out' connection.
The MOST ring is a synchronous network. A timing master supplies the clock and all other components on the ring synchronize their operation to this clock. The timing master for the MOST ring is the integrated control module.
When handling MOST fiber optic cables the following precautions should be observed:
After disconnection of any cables carefully install appropriate dust caps to protect the mating faces of the connectors from damage and contamination.
Avoid introducing bends of less than 25 mm (0.98 inches) radius or kinks into the fiber optic cable during service or repair. Tight bends or kinks could impair operation, cause immediate system failure, or future system failure.
Avoid excessive force, strain or stress on the fibers or connectors especially permanent stress after reinstallation.
Ring Break Diagnostics
Incorporated into the CJB is a Ring Break Diagnostics (RBD) link. The RBD link houses a copper link which when removed initiates the ring break diagnostics mode. The ring break diagnostics mode allows the technician to locate an optical fiber break in the MOST ring. To initiate the ring break diagnostics mode, carry out the following process:
Connect the Land Rover approved diagnostic system.
Ensure the vehicle is in power mode 4 or greater.
Remove the RBD link for the length of time specified by the Land Rover approved diagnostic system.
Replace the RBD link.
After approximately 30 seconds a DTC (diagnostic trouble code) will be logged in the Integrated Control Module, identifying the location of the fault. The DTC can be read and interrogated using the Land Rover approved diagnostic system.
READ NEXT:
Principles of Operation For a detailed description of the Communications Network, refer to the relevant Description and Operation sections in the workshop manual. Inspection and Verification CAUTIONS
Introduction CAUTION: Do not use any other heat shrink sleeve other than the approved glue lined heat shrink sleeve mentioned in the repair procedure. The purpose of this document is to promote quic
SEE MORE:
Heating Ventilation Air Conditioning Module (HVAC) CAUTION: Diagnosis by substitution from a donor vehicle is NOT acceptable. Substitution of control modules does not guarantee confirmation of a fault, and may also cause additional faults in the vehicle being tested and/or the donor vehicle &nbs
EPB will be applied automatically if the ignition is switched off and the vehicle speed is below 3km/h (2mph). To prevent automatic operation, when the vehicle is stationary, press and hold the EPB switch in the release position. Within 5 seconds, switch off the ignition and continue to hold
© 2011-2023 Copyright www.rrevoque.org