Range Rover Evoque: Electric Park Brake Control Module (EPBCM)
Electronic Parking Brake (PBM)

CAUTION: Diagnosis by substitution from a donor vehicle is NOT acceptable. Substitution of control modules does not guarantee confirmation of a fault, and may also cause additional faults in the vehicle being tested and/or the donor vehicle.

NOTES:
If the control module or a component is suspect and the vehicle remains under manufacturer warranty, refer to the Warranty Policy and Procedures manual (section B1.2), or determine if any prior approval programme is in operation, prior to the installation of a new module/component.
Generic scan tools may not read the codes listed, or may read only 5-digit codes. Match the 5 digits from the scan tool to the first 5 digits of the 7-digit code listed to identify the fault (the last 2 digits give extra information read by the manufacturer-approved diagnostic system).
Check and rectify basic faults before beginning diagnostic routines involving pinpoint tests.
Inspect connectors for signs of water ingress, and pins for damage and/or corrosion.
If DTCs are recorded and, after performing the pinpoint tests, a fault is not present, an intermittent concern may be the cause. Always check for loose connections and corroded terminals.
There are references to 'power latch' within the DTC index. This is where the module must be reset by means of a complete power down and power up.
The table below lists all DTCs (DTCs) that could be logged in the electric parking brake module, for additional diagnosis and testing information refer to the relevant diagnosis and testing section.
For additional information, refer to: Parking Brake (206-05 Parking Brake and Actuation, Diagnosis and Testing).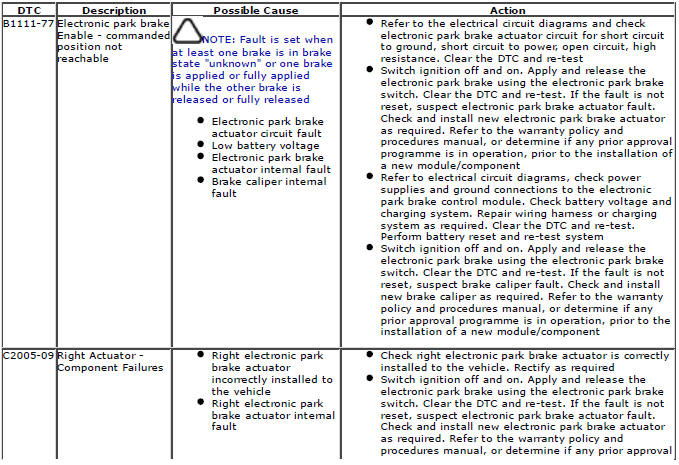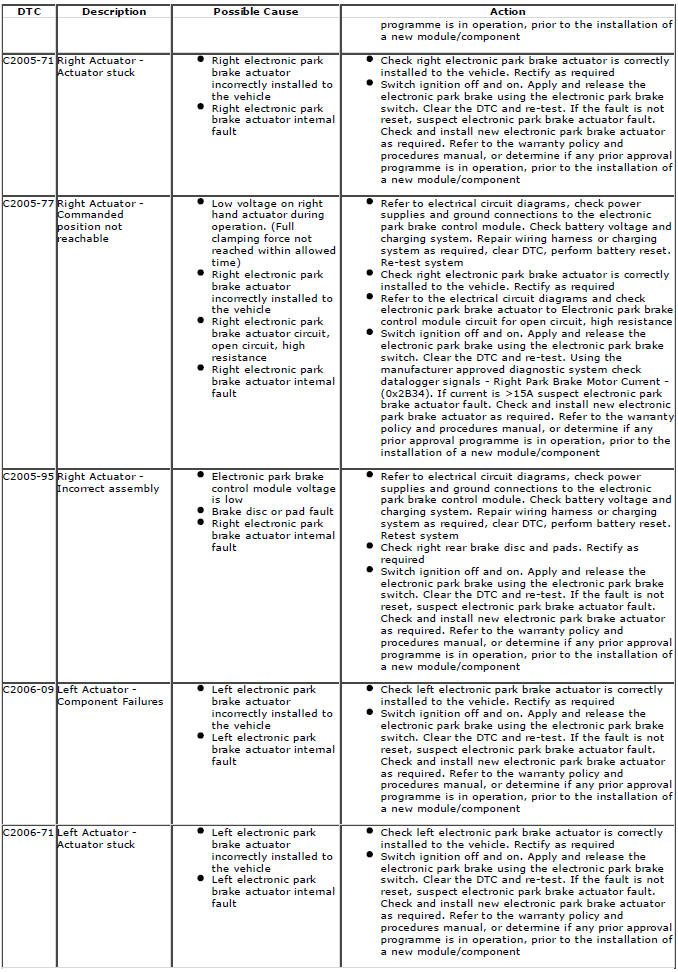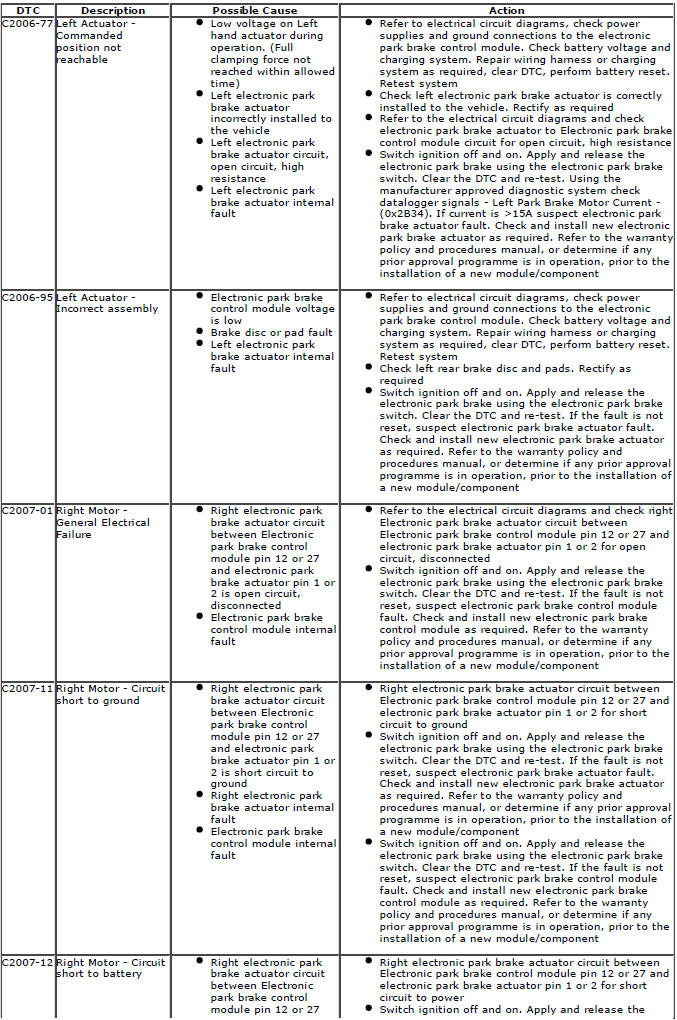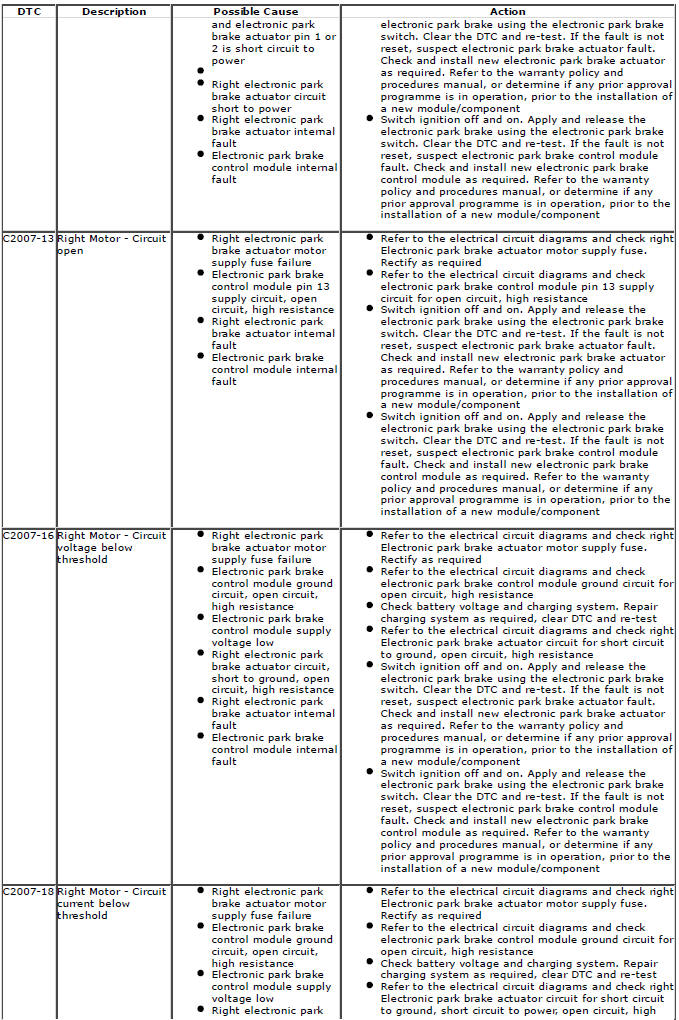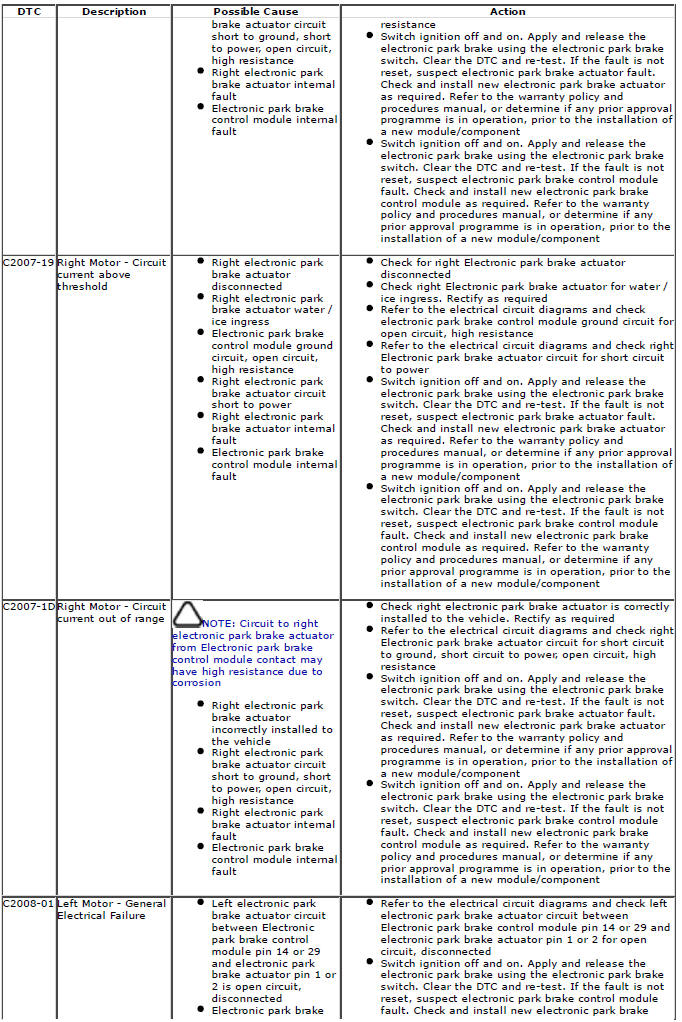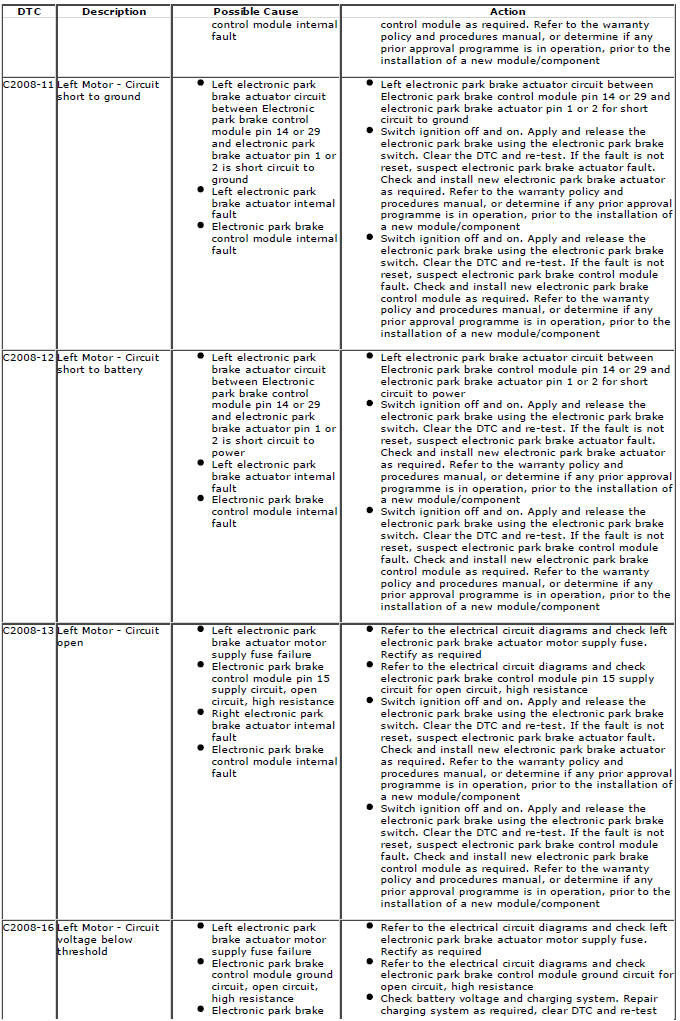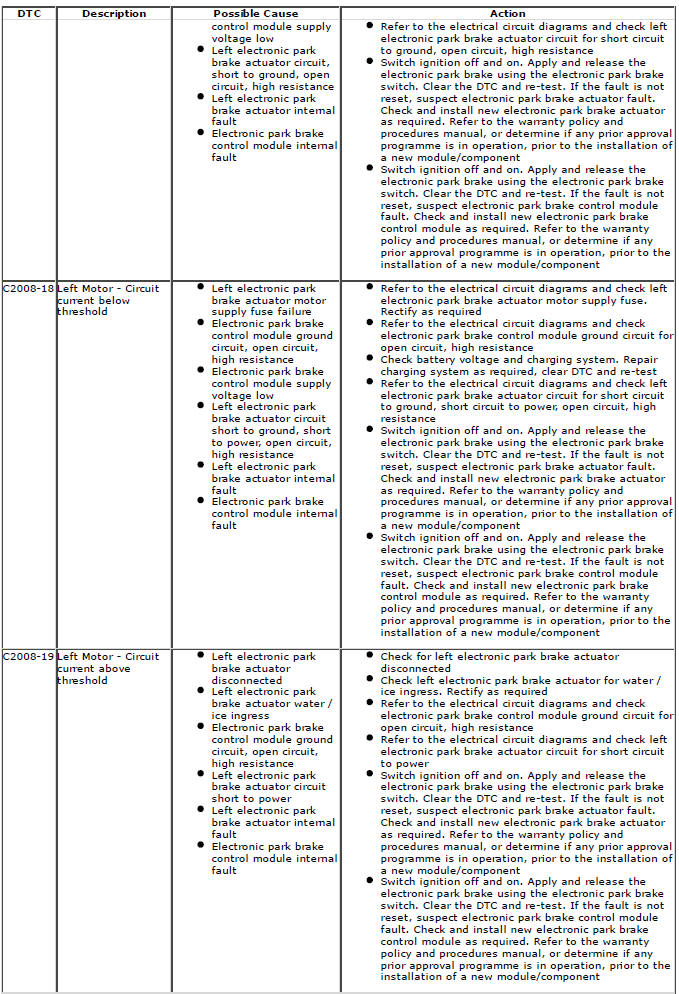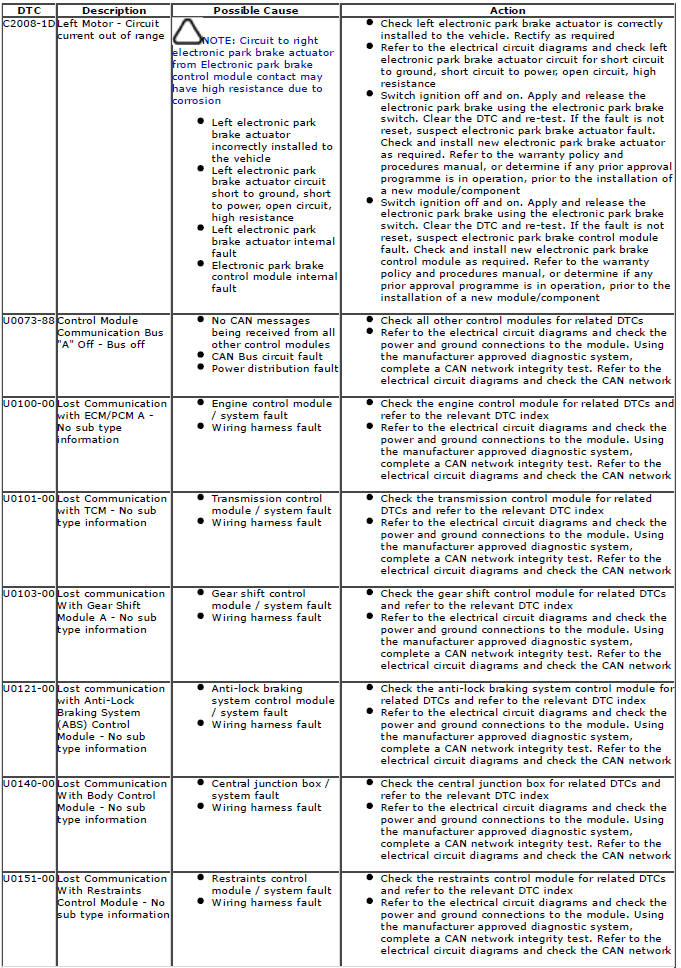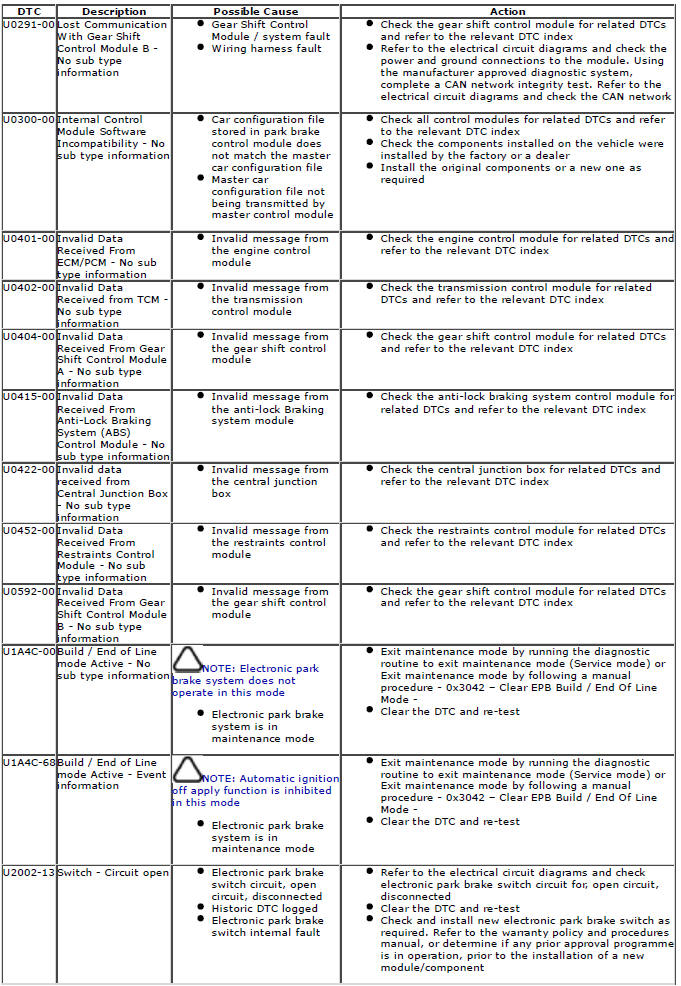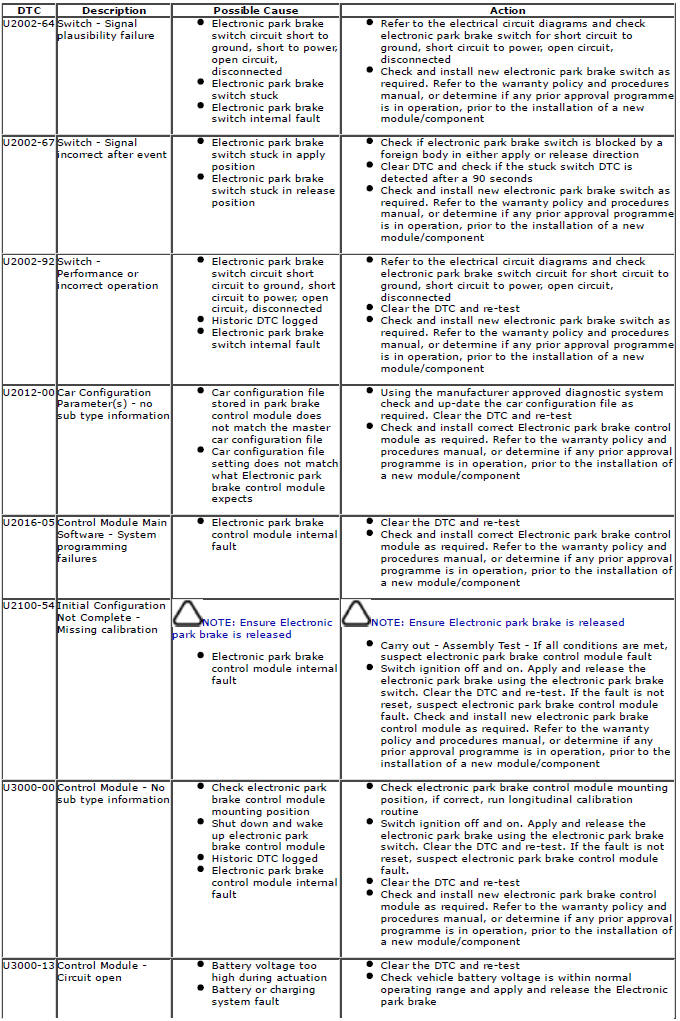 READ NEXT:
Engine Control Module 2.2L - I4 - DW12c TD4 CAUTION: Diagnosis by substitution from a donor vehicle is NOT acceptable. Substitution of control modules does not guarantee confirmation of a faul
Steering Gear (PSCM) CAUTION: Diagnosis by substitution from a donor vehicle is NOT acceptable. Substitution of control modules does not guarantee confirmation of a fault, and may also cause a
WARNINGS: TO AVOID ACCIDENTAL DEPLOYMENT AND POSSIBLE PERSONAL INJURY, THE BACKUP POWER SUPPLY MUST BE DEPLETED BEFORE REPAIRING OR REPLACING ANY AIR BAG SUPPLEMENTAL RESTRAINT SYSTEM (SRS) COMPONE
SEE MORE:
When a TMC signal is received the icon in the top left of the screen will appear green. If a TMC signal is not being received, the icon will be shown with a bar through it. The system will inform the driver of any reported roadworks, narrow road, contraflow, accidents, slippery road, diversion
The gross trailer weight must never exceed 1500 lb. (680 kg). The gross combination weight must never exceed the following: 2WD models: 5790 lb. (2625 kg) AWD models: 5955 lb. (2700 kg) The gross vehicle weight must never exceed the GVWR indicated on the Certification Label. The
© 2011-2023 Copyright www.rrevoque.org