Range Rover Evoque: Electric Power Assisted Steering Module (EPAS)
Steering Gear (PSCM)

CAUTION: Diagnosis by substitution from a donor vehicle is NOT acceptable. Substitution of control modules does not guarantee confirmation of a fault, and may also cause additional faults in the vehicle being tested and/or the donor vehicle.

NOTES:
If the control module or a component is suspect and the vehicle remains under manufacturer warranty, refer to the Warranty Policy and Procedures manual (section B1.2), or determine if any prior approval programme is in operation, prior to the installation of a new module/component.
Generic scan tools may not read the codes listed, or may read only 5-digit codes. Match the 5 digits from the scan tool to the first 5 digits of the 7-digit code listed to identify the fault (the last 2 digits give extra information read by the manufacturer-approved diagnostic system).
Check and rectify basic faults before beginning diagnostic routines involving pinpoint tests.
Inspect connectors for signs of water ingress, and pins for damage and/or corrosion.
If DTCs are recorded and, after performing the pinpoint tests, a fault is not present, an intermittent concern may be the cause. Always check for loose connections and corroded terminals.
The table below lists all Diagnostic Trouble Codes (DTCs) that could be logged in the Steering Gear, for additional Diagnosis and Testing information refer to the relevant Diagnosis and Testing Section.
For additional information, refer to: Power Steering (211-02 Power Steering, Diagnosis and Testing).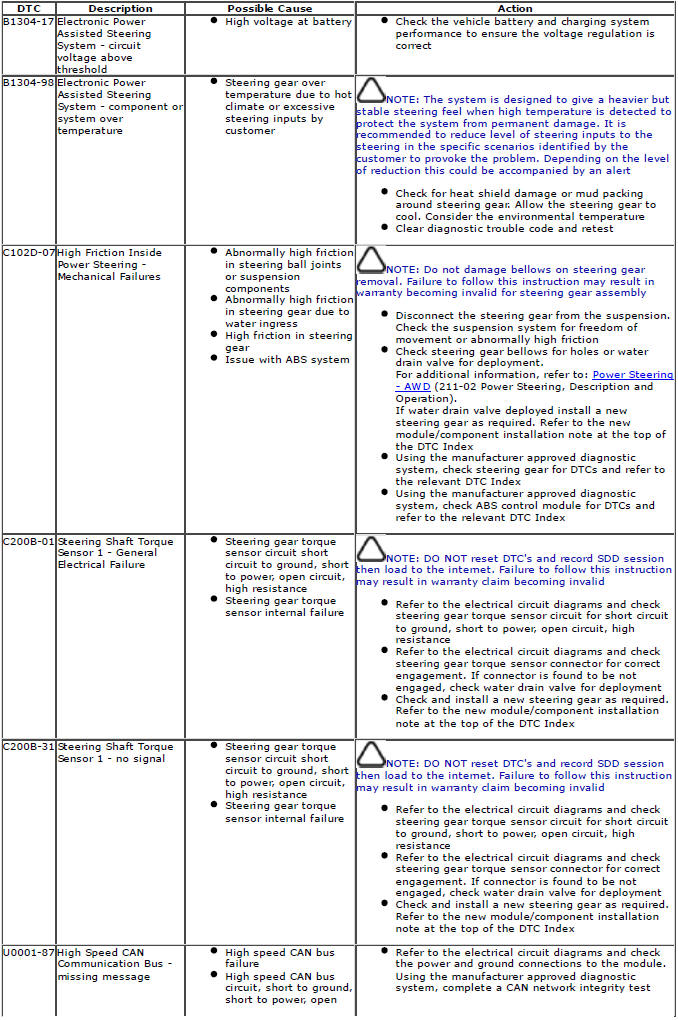 READ NEXT:
WARNINGS: TO AVOID ACCIDENTAL DEPLOYMENT AND POSSIBLE PERSONAL INJURY, THE BACKUP POWER SUPPLY MUST BE DEPLETED BEFORE REPAIRING OR REPLACING ANY AIR BAG SUPPLEMENTAL RESTRAINT SYSTEM (SRS) COMPONE
Rear Differential Control Module (RDCM) CAUTION: Diagnosis by substitution from a donor vehicle is NOT acceptable. Substitution of control modules does not guarantee confirmation of a fault, a
CAUTION: Diagnosis by substitution from a donor vehicle is NOT acceptable. Substitution of control modules does not guarantee confirmation of a fault and may also cause additional faults in t
SEE MORE:
Removal CAUTION: Make sure that all openings are sealed. Use new blanking caps. NOTES: Some variation in the illustrations may occur, but the essential information is always correct. Removal steps in this procedure may contain installation details. 1. Disconnect the battery ground cable. Refer t
The multi-information display is operated using the meter control switches. : Select menu icons : Change displayed content, scroll up/down the screen and move the cursor up/down Press: Enter/Set Press and hold: Reset/Display customizable items Return to the previous screen Call sending/
© 2011-2023 Copyright www.rrevoque.org