Range Rover Evoque: Fuel Fired Booster Heater AWD
Component Location
COMPONENT LOCATION - VEHICLES WITHOUT FFBH REMOTE CONTROL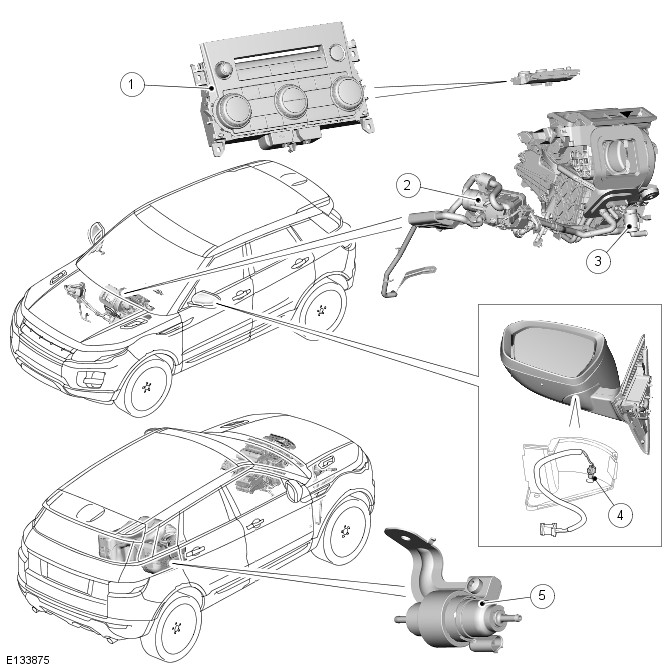 ATC (automatic temperature control) module
Fuel Fired Booster Heater (FFBH)
Auxiliary coolant pump
Ambient air temperature sensor
Auxiliary fuel pump
COMPONENT LOCATION - VEHICLES WITH FFBH REMOTE CONTROL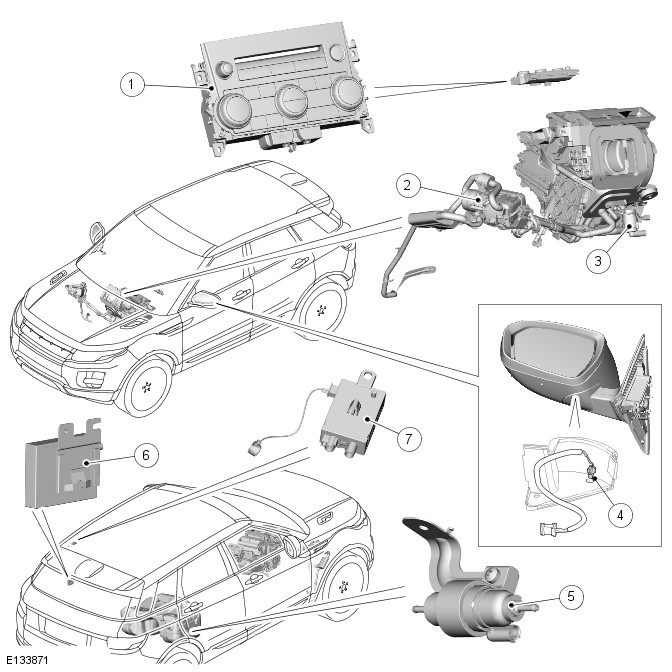 ATC module
Fuel Fired Booster Heater (FFBH)
Auxiliary coolant pump
Ambient air temperature sensor
Auxiliary fuel pump
FFBH Receiver
FFBH antenna matching unit
Overview
OVERVIEW
NOTE: There is no auxiliary coolant pump fitted if there is no FFBH fitted (from VIN 631090).
The Fuel Fired Booster Heater (FFBH) is rated at 5 kW and compensates for the relatively low coolant temperatures inherent in the diesel engine. The unit is located behind the RH (right-hand) front fender splash shield and heats engine coolant downstream of the heater core.
Operation of the FFBH is controlled by the ATC (automatic temperature control) module via the medium speed CAN (controller area network) bus. The operation of the FFBH is influenced by:
Ambient air temperature
Engine coolant temperature.
The FFBH will operate if the ambient air temperature is lower than 5
READ NEXT:
Removal NOTE: Removal steps in this procedure may contain installation details. All vehicles 1. Disconnect the battery ground cable. Refer to: Specifications (414-01 Battery, Mounting and Cables, Spe
Component Location COMPONENT LOCATION - VEHICLES WITHOUT FFBH REMOTE CONTROL ATC (automatic temperature control) module Fuel Fired Booster Heater (FFBH) Auxiliary coolant pump Ambient air temper
SEE MORE:
This application or device contains software from Gracenote, Inc. of Emeryville, California ("Gracenote"). The software from Gracenote (the "Gracenote Software") enables this application to perform disc and/or file identification and obtain music-related information, including name, ar
Component Location Powered Tailgate - Component Location Tailgate module Powered strut Tailgate open button Tailgate close button Latch assembly Powered cinch motor Powered strut OVERVIEW Tailgate The tailgate is constructed from two lightweight plastic composite parts (inner and outer lo
© 2011-2023 Copyright www.rrevoque.org