Range Rover Evoque: Heater Mats
Principles of Operation
Heated seats incorporate heater elements in the cushion and the backrest of the seat. Each cushion heater element has a thermal sensor, which supplies a feedback temperature signal to the related seat heater module. The backrest heater elements do not have a thermal sensor, and are regulated at the same temperature as the cushion heater elements.
For a detailed description of the seat heater mat, refer to the relevant Description and Operation section in the workshop manual. REFER to: Seats (501-10 Seating, Description and Operation).
Inspection and Verification
1. Verify the customer concern.
2. Visually inspect for obvious signs of mechanical or electrical damage.
Visual inspection

3. If an obvious cause for an observed or reported concern is found, correct the cause (if possible) before proceeding to the next step.
4. If the cause is not visually evident, verify the symptom and refer to the Symptom Chart.
NOTES:
If the control module or a component is suspect and the vehicle remains under manufacturer warranty, refer to the warranty policy and procedures manual (section B1.2), or determine if any prior approval programme is in operation, prior to the installation of a new module/component.
Generic scan tools may not read the codes listed, or may read only five digit codes. Match the five digits from the scan tool to the first five digits of the seven digit code listed to identify the fault (the last two digits give additional information read by the manufacturer approved diagnostic system).
When performing electrical voltage or resistance tests, always use a digital multimeter (DMM) accurate to three decimal places, and with an up-to-date calibration certificate. When testing resistance, always take the resistance of the DMM leads into account.
Check and rectify basic faults before beginning diagnostic routines involving pinpoint tests.
Inspect connectors for signs of water ingress, and pins for damage and/or corrosion.
If DTCs are recorded and, after performing the pinpoint tests, a fault is not present, an intermittent concern may be the cause. Always check for loose connections and corroded terminals.
DTC Index
For a complete list of all diagnostic trouble codes that could be logged on this vehicle, please refer to section 100-00.
Seat Heater Mat Application Chart
NOTE: To ensure an accurate resistance reading, calibrated test equipment must be used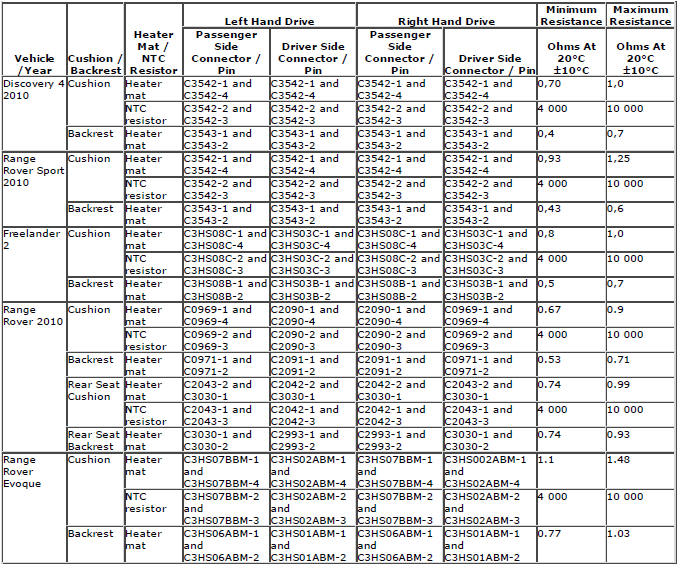 PINPOINT TEST A : SEAT HEATER MAT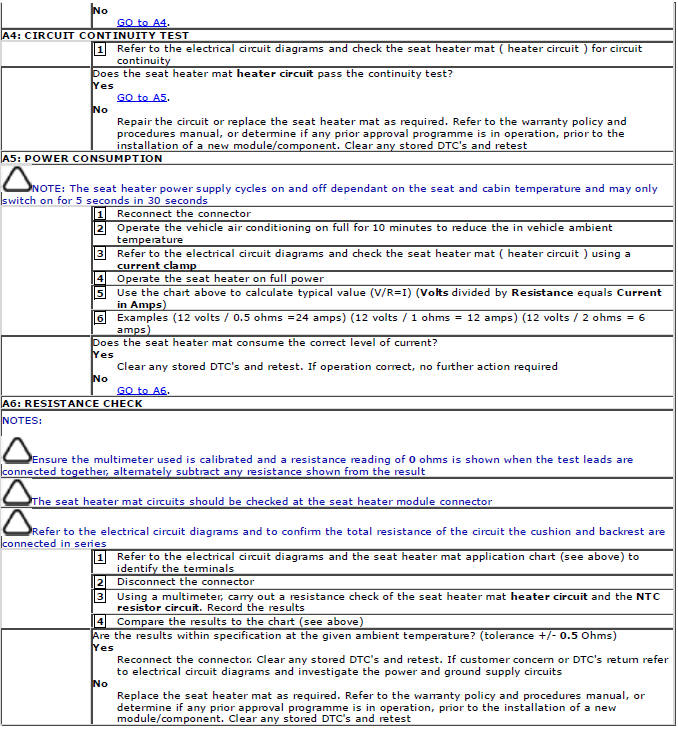 READ NEXT:
Removal WARNINGS: To avoid accidental deployment and possible personal injury, the backup power supply must be depleted before repairing or replacing any air bag supplemental restraint system (SRS)
Removal WARNINGS: To avoid accidental deployment and possible personal injury, the backup power supply must be depleted before repairing or replacing any air bag supplemental restraint system (SRS)
Removal NOTES: Removal steps in this procedure may contain installation details. Some variation in the illustrations may occur, but the essential information is always correct. All vehicles 1. Prior
SEE MORE:
Seek qualified assistance immediately if brake pedal travel is unusually long or if there is any significant loss of brake fluid. Driving under such conditions could result in extended stopping distances or complete brake failure. Brake fluid is highly toxic - keep containers sealed and out
Blind Spot Monitoring System Module (SODL/SODR) CAUTION: Diagnosis by substitution from a donor vehicle is NOT acceptable. Substitution of control modules does not guarantee confirmation of a fault and may also cause additional faults in the vehicle being checked and/or the donor vehicle. &
© 2011-2022 Copyright www.rrevoque.org