Range Rover Evoque: Transmission Description - System Operation and Component Description
Control Diagram
NOTE: A = Hardwired; D = High Speed Controller Area Network (CAN) bus; O = Local Interconnect Network ( LIN)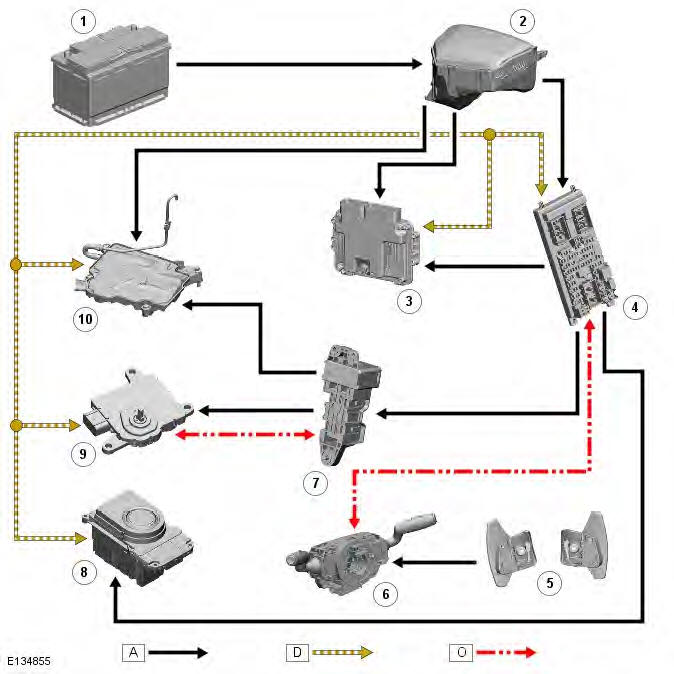 Battery
Battery Junction Box (BJB)
Engine Control Module (ECM)
Central Junction Box (CJB)
Transmission paddle switches
Clockspring
Auxiliary battery module
Transmission Control Switch (TCS)
Transmission Control Module (TCM)
Gear Shift Module (GSM)
System Operation
OPERATION
Operation of the transmission is controlled by the TCM (transmission control module), which electrically activates various solenoids to control the transmission gear selection. The sequence of solenoid activation is based on programmed information in the TCM memory and physical transmission operating conditions such as vehicle speed, throttle position, engine load and rotary TCS (transmission control switch) position.
Engine torque is transferred, via operation of single or combinations of clutches to the planetary gear trains. The gear trains are controlled by reactionary inputs from brake clutches to produce the 6 forward gears and 1 reverse gear.
The shift elements (clutches and brakes) are actuated hydraulically. Fluid pressure is applied to the required clutch and/or brake, pressing the plates together and allowing drive to be transmitted through the plates. The purpose of the shift elements is to perform power-on shifts with no interruption to traction and smooth transition between gear ratios.
Component Description
DESCRIPTION
The transmission comprises the main casing which houses all of the transmission components. The torque converter is located in a separate converter housing.
AW F21 Automatic Transmission - Sectional View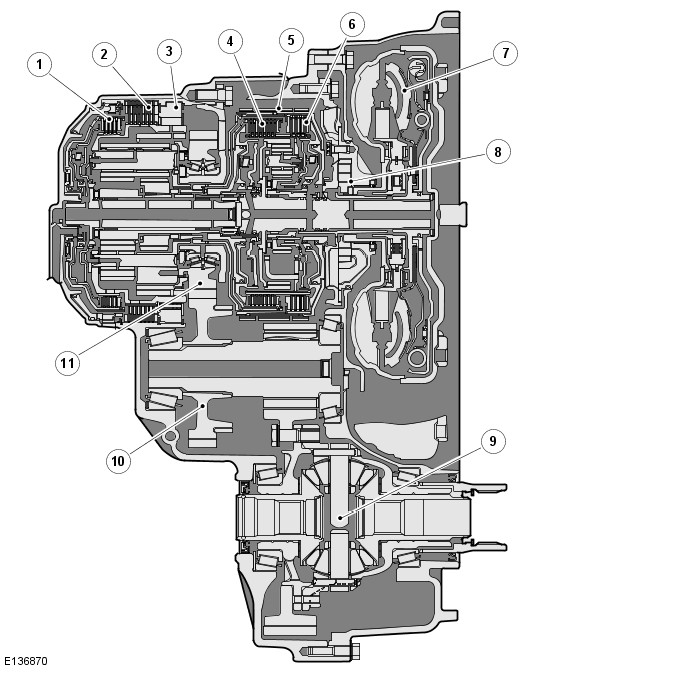 Clutch - C2
Brake - B2
One-way clutch - F1
Clutch - C1
Brake - B1
Clutch - C3
Torque converter
Fluid pump
Differential assembly
Counter driven gear
Counter drive gear
The main casing retains the fluid at the bottom. A combined drain/level plug is located in the bottom of the casing. The oil level is checked by removal of the inner level plug, with the engine running and the transmission fluid at a temperature of between 50 to 60
READ NEXT:
TORQUE CONVERTER Torque converter housing Lock-up clutch Turbine Impeller Stator Fluid pump Input shaft The torque converter is the coupling element between the engine and the transmission
DRIVE CLUTCHES Multiplate Drive or Brake Clutch - Typical Input shaft Main pressure supply port Piston Cylinder - External plate carrier Clutch plate assembly Baffle plate Diaphragm spring O
Operation of the transmission is controlled by the TCM which electrically activates various solenoids to control the transmission gear selection. The sequence of solenoid activation is based on prog
SEE MORE:
Operating the lever can use the windshield wipers or the washer. NOTICE ■When the windshield is dry Do not use the wipers, as they may damage the windshield. Operating the wiper lever Operating the lever operates the wipers or washer as follows. (U.S.A.) or (Canada) Off (U.S.A.) or (Can
The emergency flashers are used to warn other drivers when the vehicle has to be stopped on the road due to a breakdown, etc. Operating instructions Press the switch. All the turn signal lights will flash. To turn them off, press the switch once again. ■Emergency flashers If the emergency fla
© 2011-2023 Copyright www.rrevoque.org