Range Rover Evoque: Using cruise control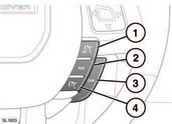 Using cruise control
1. Set target speed, or increase speed.
2. RES. Resume set speed.
3. CAN. Suspends cruise control operation without erasing memorised speed.
4. Decrease set speed.
Note: Cruise control is not available when using Hill Descent Control or when a Terrain Response special program has been selected.
Note: Do not use cruise control when driving off-road.
READ NEXT:
When setting the cruise control to the speed limit, it is important to remember that it is possible for the vehicle speed to increase when travelling downhill. This may result in the vehicle sp
To reduce cruising speed, press and hold control (4). Release the switch when the desired speed is reached, the new speed will be set and maintained. The set speed can be decreased in steps of 2k
Suspend cruise control with a single press of control (3). To resume cruise control at the previous set speed, press control (2). RES (2) should be used only if the driver is aware of the set
SEE MORE:
Control Diagram NOTE: A = Hardwired; D = High Speed CAN (controller area network) bus; N = Medium Speed CAN bus; O = LIN (local interconnect network) bus DW12C is shown, GTDi is similar Battery Blower motor LH (left-hand) temperature blend stepper motor Windshield distribution (defrost) stepp
Never remove the filler cap when the engine is hot - escaping steam or scalding water could cause serious personal injury. Antifreeze is highly inflammable. Do not allow antifreeze to come into contact with naked flames or other sources of ignition (e.g. a hot engine) - a fire may result.
© 2011-2022 Copyright www.rrevoque.org